2020 Innovators Awards Inductee Profile: Economic Development Corporation of Michigan City
February 8, 2021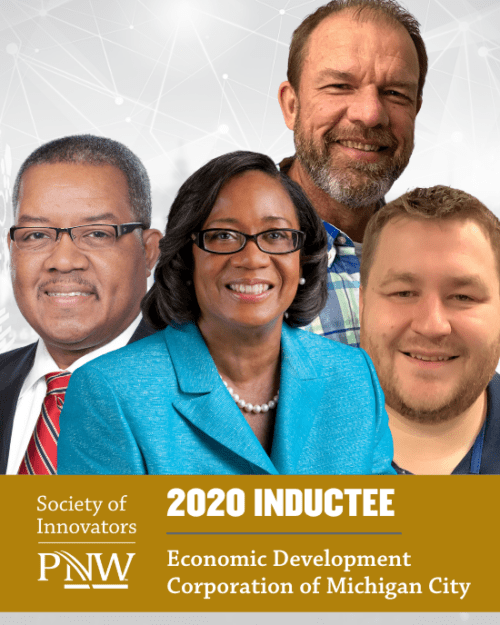 The Economic Development Corporation of Michigan City (EDCMC) and Michigan City Area Schools (MCAS) collaborated to create the Compressed Air Academy, a program for mechanically inclined students interested in a head start on a career in a vibrant LaPorte County industry.
The Compressed Air Academy is the only high school training program of its kind in the United States. There are two audiences that benefit from the program. First, high school students receive industry-tailored instruction, hands-on experience with equipment, and on-the-job training. Second, local employers gain industry-certified graduates who can immediately enter the workforce.
Graduates of the Compressed Air Academy earn six certifications that can be utilized not only in this field but in other industries. The program has been well received by the local compressed air industry; companies have donated training manuals, compressors, equipment, and tools to the program, and have provided teacher training, field trip opportunities, and internships. It has also enhanced talent attraction and retention programs of the Economic Development Corporation of Michigan City.
How did this partnership come together?
Dr. Barbara Eason-Watkins – The Compressed Air Academy is a true example of what a business and school district collaboration can truly be to benefit the workforce of an industry. We worked closely with EDCMC from the very beginning to better understand the needs of our local industries and to ensure that our students get a learning experience that will prepare them for the future.
Clarence Hulse – Having a qualified workforce is always key to attracting industry and keeping the ones you have. Indiana is number one in the US for the compressed air industry, but one question was, "How do we make our students aware of this great industry in their own backyard?" With the knowledge we had from the industry, we were able to put together a curriculum with MCAS and it just kind of took off.
And it cannot be understated the importance of having a school superintendent visit the industry, walk the floor, see what they do, and understand what their needs are. That is the hallmark of this partnership. Administrators taking that back to the school and creating this new product, which is a qualified workforce.
What feedback have you received from the industry?
Dr. Barbara Eason-Watkins – They are thrilled that we have identified their industry as an important career path here at Michigan City High School, and that we're dedicating ourselves and our students to finding ways to meet their workforce needs.
What does it mean to have the Compressed Air Academy recognized by the Society of Innovators?
Jeff Rochowiak – To me it's just extremely exciting for everybody. We wanted to make a program that is going to help grow Michigan City, help our companies, and help our students. This is just the tip of the iceberg right now. As we've started working with our local companies, the possibilities are endless.
Ralph Gee – To continue that a little bit further, if you look at the history of technology education nationwide a lot of these programs were stripped away from schools. When most people think it's not a possibility, what we're doing at Michigan City High School is really awesome. A lot of great things are happening here and I think it's great to be able to highlight that by being inducted into the Society.
Dr. Barbara Eason-Watkins – It is really exciting that the Society of Innovators is recognizing our partnership. I think that in many cases, people look at public education and think that we're just solely committed to following the state guidance in terms of what the curriculum is. While we had to do that, we also wanted to ensure that we were meeting the needs of our local businesses and industries. And so to me, this is really just a great honor that is being recognized by the people who really look at innovation and business in a positive way.
What is something you wish more people knew about Northwest Indiana?
Clarence Hulse – Northwest Indiana is a great place to do business. I don't say that as a marketing ploy, but our taxes are reasonable, and we have qualified, smart people that can do anything. From a business perspective, this is the next place to be.
Ralph Gee – One thing is our talent base. A lot of people look at Northwest Indiana and don't think there is an employee base available to have advanced manufacturing or other advanced industries in our area. But, the people are here. I would like others to know that Northwest Indiana is here and ready to work.
What does innovation mean to you?
Ralph Gee – When I think innovation it taking something and improving it over time. What we've done with the Compressed Air Academy is take that old Tech Ed model and form it into something new where we've really catered and tailored it to the needs of Northwest Indiana. We took what would typically be a normal run of the mill class and turned it into something really great.
Jeff Rochowiak – I am also a baseball coach here at the school. There are some things I've done for 25 years, but I have also found ways to make them better. Change is always how I think about innovation. You never want to be flat with what you do. We're always looking at ways to improve this program.
The Economic Development Corporation of Michigan City in collaboration with Michigan City Area Schools was a 2020 team inductee into the Society of Innovators at Purdue Northwest. Team members include Clarence Hulse, Executive Director, Economic Development Corporation Michigan City; Dr. Barbara Eason-Watkins, Superintendent, Michigan City Area Schools; Ralph Gee, Engineering Technology Teacher and MC Robotics Coach, Michigan City High School; and Jeff Rochowiak, Engineering Technology Teacher, Michigan City High School. A full list of 2020 inductees can be found here.