2020 Innovators Awards Inductee Profile: Emily D. Edwards
February 5, 2021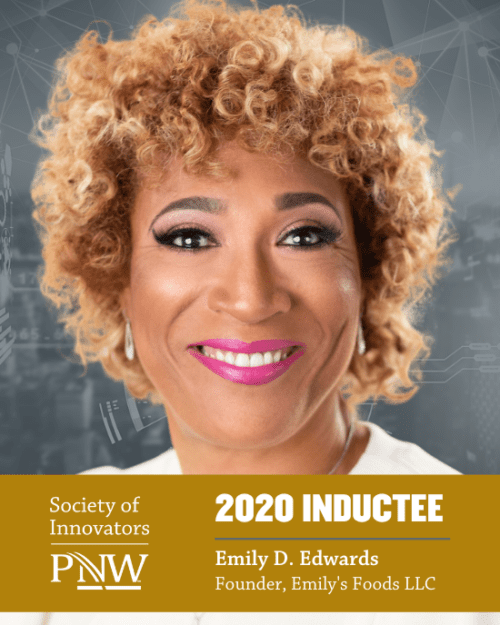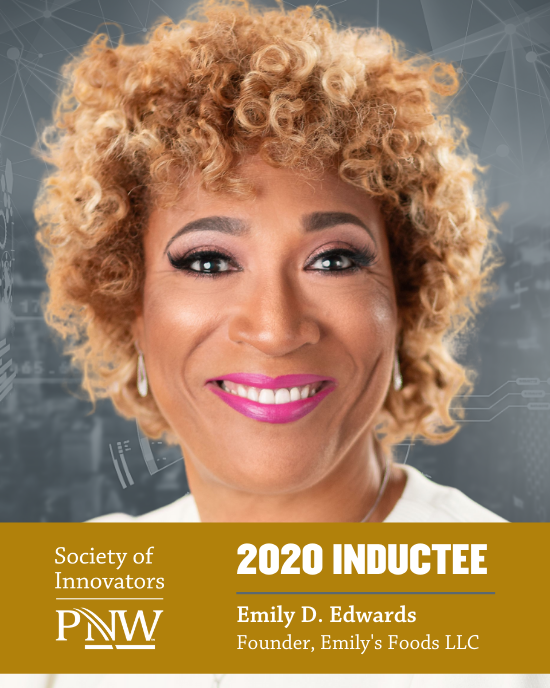 A food gamechanger, Emily D. Edwards is the founder of Emily's Foods and the creator of Paradise Icing™ organic icing/dips. Available in both chocolate and caramel sea salt vanilla flavors, Paradise Icing™ is the only U.S. plant-based dip product in the dessert category.
Sold either as standalone tubs or in smaller "Snax Pax", the vegan treat is made with five grams of satisfying pea protein per serving. Paradise Icing™ provides a daily dose of plant protein while releasing peptides in the stomach to help keep you full longer. It was made to address the millennial mother, diabetic, or athlete who wants to live a healthy lifestyle and is seeking a "better for you" snack that is healthy, organic, convenient, low in sugar and tastes good.
A former social worker in private practice, Emily was first inspired to start the company during her own weight loss journey. She became frustrated with the lack of snack options that were healthy, contained less sugar, more plant protein and convenient for a busy lifestyle. She started making plant-based icings with pea protein powder to pair with snacks already in her kitchen and quickly realized that other people who did not eat healthy icings and dips fell in love with them.
What makes your product innovative?
What is unique about Paradise Icing™ is that it is the only plant-based sweet product in the dessert category. It contains pea protein powder and has some really cool features. It heats up well. You can cook it and it doesn't lose any of its integrity. It also has no soy, no dairy, no nuts, no preservatives, and no additives. Paradise Icing™ has a 12-month shelf life, free of the allergens, and it releases peptides in the stomach to help you feel full longer. It is just really a great product that I think is on the cutting edge of the industry.
What are you excited about in 2021?
We are working on a strawberry flavor and we'll soon be looking at a smoked Gouda, a buttercream, and maybe a lemon flavor. We are also rebranding and building out the team for Emily's Foods and adding more retail stores and e-commerce partners.
What is something you wish more people knew about Northwest Indiana?
I am from Mississippi originally, so I grew up in the country. I'd like more people to know that Northwest Indiana has this family feeling. You get to enjoy the city life, but the suburbs of Northwest Indiana also remind me more of that peaceful country living.
What does innovation mean to you?
Innovation is being able to take something or do something and develop it into a solution that people can benefit from. It's not just about you. Innovation can be shared with others and be used to give back to someone else.
What new technologies are you paying attention to right now?
Canva, Vimeo and TikTok. They are helping Emily's Foods increase our marketing and social media presence.
What is something new you have learned during this period of COVID-19?
I learned that having a daily schedule while working from home helps keep me structured and increases my productivity. I've also started to paint and became an author.
How do you recharge?
Reading the Bible, exercising, and testing new recipes.
Six quick questions:
Coffee or tea? Tea
Reading: print or digital? Digital
Books: fiction or nonfiction? Both
Winter or summer? Summer
Snacks: sweet or savory? Savory
Zoom: wave at the end of a meeting or not? Not
Emily D. Edwards, founder of Emily's Foods and Paradise Icing, was a 2020 individual inductee into the Society of Innovators at Purdue Northwest. A full list of 2020 inductees can be found here.