2020 Innovators Awards Inductee Profile: Jake Miller
February 5, 2021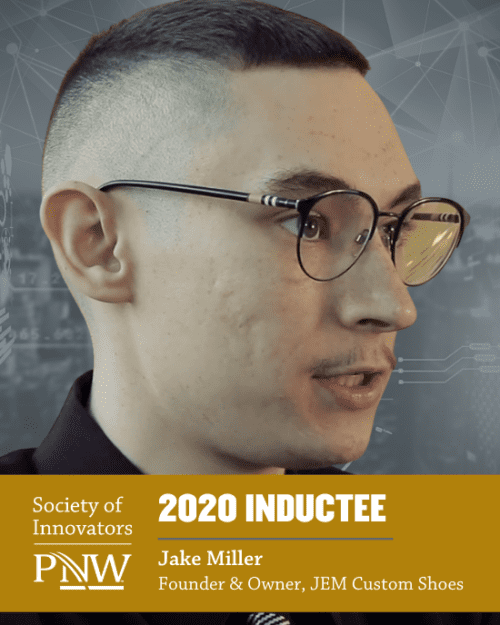 Jake Miller started JEM Custom Shoes about six years ago at the age of 16 when he customized a pair of his friend's shoes and posted it online. "Out of nowhere, people were asking me to customize all these shoes." Soon after, he received a $100 VISA gift card for Christmas that Jake used to buy all the supplies he needed to launch a business. He started off with shoe customizations and then decided to add cleaning services.
JEM Custom Shoes took off and now offers an extensive collection of custom solutions to give high-end sneakers a new life. As an artist, Jake enjoys customizing shoes to his customers' specifications. Through extensive research into how shoes are made, he has learned to apply a wide variety of custom touches and images requested by his clients, no matter how foreign.
Cleaning, customizing and refurbishing shoes is the biggest part of his business, but Jake has been innovative in his approach. To help with the oxidization, or yellowing, of shoes, he built a custom light box to solve the problem. Through ultraviolet light and a special paste he applies to the shoes, Jake's light box helps "un-yellow" his clients' shoes and deoxidizes them.
Jake is also conscious about the environment in the work he does. Over 300 million shoes are thrown out each year. JEM Custom Shoe's approach is helping keep shoes from ending up in a landfill.
During the summer, Jake teaches art and entrepreneurship at a local Boys and Girls Club. "I teach the kids about how a business works and what it's like to be an entrepreneur. I want to inspire them that they don't have to just go by the set rules. That can go off and have their own passion as a career."
One class was really interested in JEM Custom Shoes, so Jake printed out a bunch of silhouettes of popular shoes to color in and customize. He chose a couple of the designs to bring to life and created some custom shoes using his students' designs. "We sold one pair of the customs in an online Facebook shoe group for $250. The buyer resold them on eBay for another $200 and donated the proceeds. We ended up raising $450 for the Boys and Girls Club with that shoe." Jake plans to continue working with the Boys and Girls Club on future classes and fundraisers.
What sparked your interest in becoming an entrepreneur?
I've always been a bit of an artist. My grandfather was a good artist and was like a mentor to me growing up. He really inspired me. Then in elementary school, I was recognized by a local art center and they gave me numerous class scholarships. I took a bunch of classes there and that's what really helped me become an artist myself.
In 2015, I received a $100 VISA card for Christmas from my grandma. That was a lot and really boosted my start. Without that I probably wouldn't have thought about starting a business. Maybe in the future, but that is what really helped me.
What does it mean to you to have your work recognized by the Society of Innovators?
I think it's really cool that we have a group like the Society of Innovators here in Indiana. This is going to help me connect more to my community. I really look forward to getting better connected and meeting other innovators to bounce of ideas of.
How might we help inspire other high school students to become entrepreneurs?
They need somebody to inspire them. A way for the information to get to them. Inspiration is key to igniting pathways to greatness. We need to have mentors or just opportunities other than just, "Hey, you need to go to college to do this." There are other pathways than that. I know it's the mainstream thing to do, but people need to be able to find their own pathway and find their unique skill or what they really like, what they enjoy doing. And then from there, they can do so much more with it. That is the key.
How would you define innovation?
Innovation is usually defined as a new idea, a new product, or a new design. But innovation doesn't necessarily have to be new. It can be adaptations of past ideas. Everything is already here, potentially. Innovation is just adaptation where you find and tweak little ideas to make things more efficient or better.
What is something you wish more people knew about Northwest Indiana?
A lot of people think Northwest Indiana is just corn or dairy, but I wish people knew there is a lot of potential here. Anything you can do anywhere else, you can do it here and be successful. Being so close to a major city like Chicago, we have all the resources we need to bring success out here. We have so much potential.
What is something new you have learned during this period of COVID-19?
I've learned that I can be much more productive at night. Whether you go to sleep at 9pm or 3am, you can still get the same amount of sleep. The time we are awake to work, the traditional 9-5 schedule, is just not mandatory anymore.
What are you excited about in 2021?
I'm excited for a fresh start. It is relieving to have 2020 in the past as we look forward to advancements in society this year.
Six quick questions
Coffee or tea? Tea
Reading: print or digital? Digital
Books: Fiction or nonfiction? Fiction
Winter or summer? Summer
Snacks: sweet or savory? Both!
Zoom: wave at the end of a meeting or not? Sometimes
Jake Miller, founder and owner of JEM Custom Shoes, was a 2020 individual inductee into the Society of Innovators at Purdue Northwest. A full list of 2020 inductees can be found here.