2020 Innovators Awards Inductee Profile: Jamie Fankhauser
February 5, 2021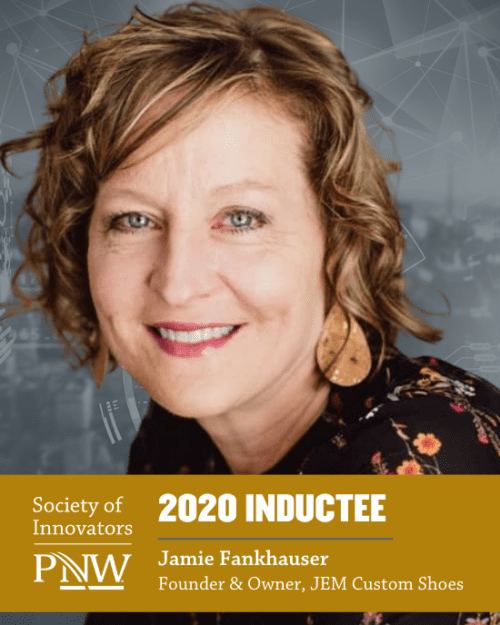 Jamie Fankhauser is the owner of BUN's Soapbox, a full soap shop that offers shampoos, body bars, lotions, lip balms, and an entire acne product line. In May 2018, she purchased her house to not just provide a home for her autistic daughter, but to establish a raw goat's milk soapery for the community. Jamie and her family live and work in the 140-year-old home. The home's original parlor is now the soap shop.
As a registered nurse, Jamie takes great pride in creating recipes to provide a full line of skin products made by hand. BUN's goats milk soaps are made with raw, untouched milk straight from the farmer. The shop is known for the healing properties of its products. Their unique, raw goats milk blends help hundreds of customers heal from acne, rosacea, psoriasis, and eczema. They have established over 100 unique varieties of scents including Kentucky Bourbon and Off Square Brewing beer soaps.
One item, a charcoal tea tree facial bar allows customers to purchase the item as a prescription medication because of it proven healing properties. Another rare solution available from BUN's is a shampoo bar recipe that helps heal dandruff and eczema of the scalp.
BUN's Soapbox also employs individuals on the autistic spectrum, meeting the needs of many families looking for opportunities for their autistic children to utilize their gifts. Through a partnership with the local high school, Jamie and her team have started a training program for kids and young adults on the spectrum.
Jamie's greater vision is to offer housing as part of their employment with Bun's. Future plans include the purchase of 35 acres to house employees and increase warehousing capabilities.
What makes BUN's Soapbox innovative?
The process that we use is complicated. We take goat's milk straight from the farmer untouched. It is raw and unpasteurized. A lot of other soap makers use powders or processed milks instead. As a result, ours is super rich in fats. So, adding the raw goat's milk to our products is what provides their healing properties. BUN's products help heal eczema, rosacea, psoriasis, acne, and just kinds of other bizarre skin rashes. We just keep listening to our customers and as a need arises, I go back to the drawing board to put something together for them.
I am a registered nurse by trade and worked in surgery for 25 years. The ironic part is that I hated chemistry in college. It was one my hardest classes, but now I use it the most by making products and coming up with different solutions that make a difference in people's skin.
There are multiple physicians in the community that have heard of our products and are out there saying, "Hey, before we try a prescription, I would like you to give BUN's Soapbox's goat's milk products a try." We have a strong following from physicians and pediatricians that bring their clients to us.
What are some of the products you had the most fun coming up with?
One was definitely Monkey Farts. I could have named any bar Monkey Farts, and everybody would have bought it just because of the name. However, a lot of kids have eczema and psoriasis, so we try and do some fun things for them. One bar that is really my favorite is a beer bar made with Angry Betty beer from Off Square Brewing in Crown Point, Indiana. I got permission from the owner to add the alcohol to our goat's milk. It makes the creamiest, richest lather bar you'll ever have on planet Earth.
What does it mean to you to have your work recognized by the Society of Innovators?
It is an encouragement, but mostly I hope it's an encouragement back to others to know that you can make a difference. Everybody is here for a purpose. We each have gifts that we've been given. I hope this serves as encouragement to follow your purpose and your gifts.
What is something you wish more people knew about Northwest Indiana?
There is a lack of awareness of autism in our communities. When they leave high school, many of these individuals don't have a place to go call a job. Most of them love to work, and all of them are extremely gifted. I think the community is unaware that these individuals are not really capable of being part of the community, because there's not a place for them to fit in and work.
What does innovation mean to you?
Innovation has been the one thing that I have learned the most through this whole process. I thought I just made soap, then the next thing happens, and you need packaging. Then the next thing happens, and you need marketing. If you are going to make an impact, it's critical to always be innovating because there is always going to be a change. There is always going to be a need for something new, new equipment, new products. If you stop innovating, you stop growing.
Jamie Fankhauser, owner of BUN's Soapbox, was a 2020 individual inductee into the Society of Innovators at Purdue Northwest. A full list of 2020 inductees can be found here.