2020 Innovators Awards Inductee Profile: Magesh Chandramouli, Ph.D.
February 5, 2021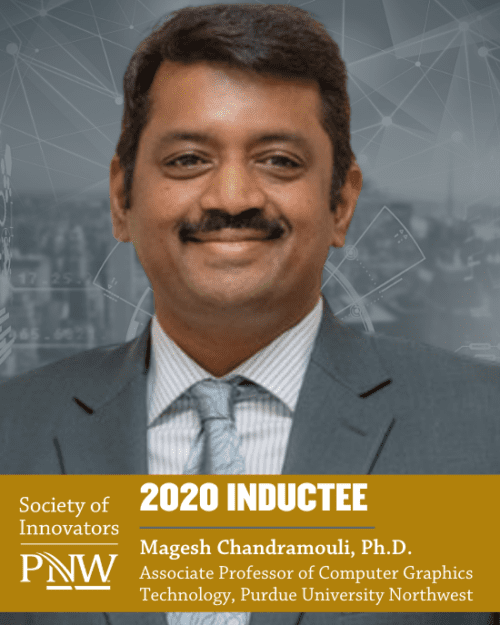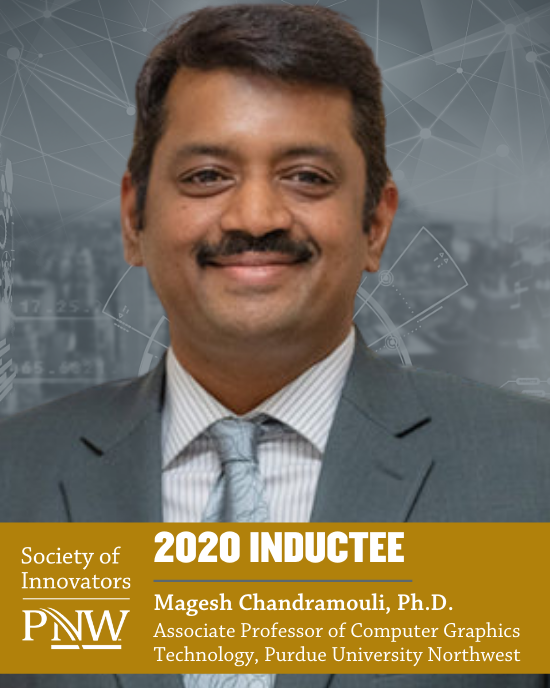 Magesh Chandramouli builds cost-effective virtual reality (VR) technology solutions for instructional innovation and practical research. His research is highly instruction-oriented, and he has collaborated with faculty members nationwide to design VR instructional frameworks for programming instruction, hardware instruction, and manufacturing instruction.
Specifically, he designed and implemented Project MANEUVER (Manufacturing Education Using Virtual Environment Resources), an innovative multimodal virtual reality (VR) framework for manufacturing education. The modules were developed using novel methods for access through 3 modes: desktop, augmented and immersive VR. Modules were also made available using the MOOC (Massive Open Online Course) framework, making them available to other colleges in Northwest Indiana and surrounding regions.
Chandramouli has applied VR modules in interior space design, Remotely Operated Vehicle (ROV) design, programming, and hardware instruction. In 2020, access to lab spaces was limited. And even when labs are open, you need to have a trained instructor or lab assistant there to supervise. With virtual instruction modules, students can practice without the safety risks and as often as they would like. In the real world, there is also the risk of equipment damage when mistakes are made.
VR frameworks offer cost-effective ways for interactive instruction and training purposes. Northwest Indiana and the nation are facing an imminent shortage of skilled workers in digital manufacturing. Over half of the 3.5 million required manufacturing positions in the US are expected to go unfilled due to a "skills gap." Dr. Chandramouli's framework marks a major milestone in the long-term effort to establish a career pathway to address and remedy the shortage of a skilled digital manufacturing workforce.
What does it mean to you to have your work recognized by the Society of Innovators?
I feel really humbled to be inducted. It is a pat on the back to continue my work and collaborate with others. These go a long way in promoting innovation and stimulating new ideas in the future generation.
What is something you wish more people knew about Northwest Indiana?
I have been here for 10 years and this place means a lot to me. It is a very nurturing environment, especially at Purdue Northwest. The university and my college, the College of Technology, have been closely involved with the industrial community in Northwest Indiana. It is a mutually beneficial relationship between our academic institution and the community, that is helping to solve real world problems.
What does innovation mean to you?
Innovation is not a discrete event. It is a continuous process. One key aspect of innovation is the ability to be open. Ever since I was young, my parents always encouraged us to be open-minded and to keep looking for out-of-the-box solutions. Not to be restricted to one particular way of thinking. I thank them for their everlasting love and support. Thanks to God's grace and thanks to my brother, sister, wife, kids, and friends.
What are you excited about in 2021?
I look forward to traveling again to attend conferences and collaborate with other researchers.
What new technology(s) are you paying attention to right now?
Open source in virtual reality because that helps with affordability and dissemination of the technology.
What is something new you have learned during this period of COVID-19?
My two boys and I prepared for the black belt qualifier and were able to earn our black belts in karate during this time.
How do you recharge?
Spending time with my family.
Six quick questions
Coffee or tea? Coffee
Reading: print or digital? Print
Books: Fiction or nonfiction? Fiction
Winter or summer? Summer
Snacks: sweet or savory? Savory
Zoom: wave at the end of a meeting or not? Wave
Magesh Chandramouli, Ph.D., Associate Professor of Computer Graphics Technology at Purdue University Northwest, was a 2020 individual inductee into the Society of Innovators at Purdue Northwest. A full list of 2020 inductees can be found here.