2020 Innovators Awards Inductee Profile: Top Flight Hockey
February 5, 2021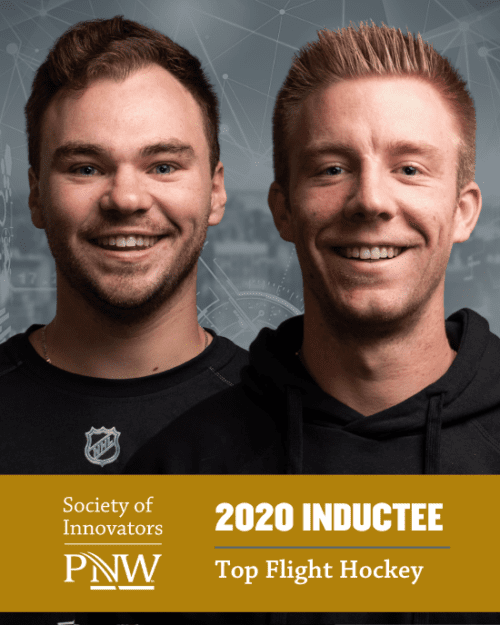 College roommates Quinton Oster and Danny Mikrut founded Top Flight Hockey to give hockey players an affordable alternative to purchasing expensive retail products. They purchase new and used overstock sticks and equipment from NHL, AHL, NCAA, and other high level junior hockey programs and re-sell them at a fraction of retail prices through their storefront in Northwest Indiana as well as online through the Top Flight Hockey website and Ebay.
When Top Flight first started, Quinton and Danny were running the business out of a parent's basement. They were lucky enough to find an amazing warehouse and storefront space in Saint John, Indiana and initially moved in with just two desks, a couple of laptops, and about 100 sticks in inventory.
Fast forward two years and Top Flight has landed deals with two NHL teams, and 50+ other semi-pro, college, and junior hockey teams. They now have a warehouse packed with inventory and are sending out dozens of packages every day.
In addition to selling new and used equipment Top Flight also purchases broken hockey sticks from teams across the country. They have found ways to save these sticks from landfills by making coasters, tables, nightstands, bottle openers, and more. The company sells these direct and is exploring the options of wholesaling to NHL teams to offer to their fans as souvenirs and giveaway items.
What does it mean to have Top Flight's work recognized by the Society of Innovators?
Danny Mikrut – It is super cool that we have been recognized for what we're doing. We try to surround ourselves with like-minded people who are innovative and creative. It has become kind of normalized to us, that what we're doing is simple and normal. The fact that someone else thinks that what we're doing is creative and innovative, it definitely means a lot.
What does innovation mean to you?
Danny Mikrut – We wouldn't have a business if it weren't for being innovative and creative. It doesn't mean creating something brand new. Sometimes it is just thinking of a different way to use that product or something that already existed for something else. I think one of the most important things is to stay innovative and change as the times change. Everything is changing so quick now. If you are not changing with the times, you are falling behind.
Quinton Oster – Innovation is taking an idea that you have in your head, tweaking it and making it the best you can. Sometimes it doesn't work out the way you wanted to at first, but you keep trying and trying again until you have something that you're happy with.
What is something you wish more people knew about Northwest Indiana?
There are more people here willing to help and support you than you think. From a business standpoint, everybody starts somewhere and needs help getting going. I feel like a lot of people are afraid to ask for help so they don't do anything about it. You shouldn't be afraid to reach out to people.
Top Flight Hockey was a 2020 team inductee into the Society of Innovators at Purdue Northwest. Team members include co-founders Danny Mikrut and Quinton Oster. A full list of 2020 inductees can be found here.