A former Purdue Northwest professor leaves multimillion dollar estate gift
April 12, 2019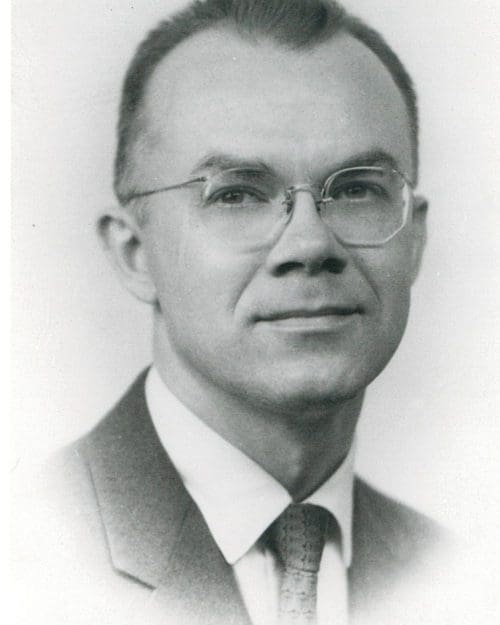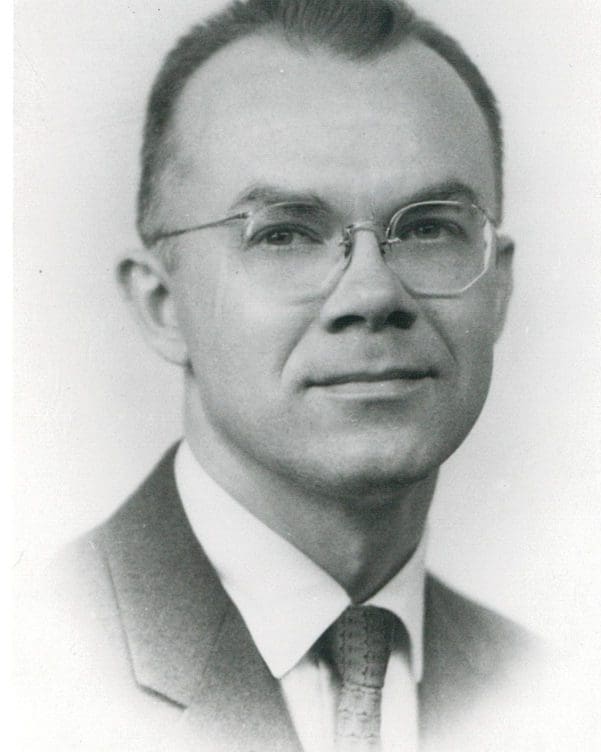 When Dr. Nils K. Nelson, organic chemistry professor, retired from Purdue University Northwest (PNW) in 1991, he never considered leaving the place he loved. There were opportunities to relocate closer to family, but for Nelson, PNW's Hammond Campus was home.
Leaving an eternal mark at PNW may have been what Nelson, who taught 29 years at the university, had in mind when he planned a multimillion dollar gift from his estate—though he might not have expected his legacy would include a building in his name.
The Purdue University Board of Trustees today (April 12) approved the official naming of the Nils K. Nelson Bioscience Innovation Building. Currently under construction on PNW's Hammond Campus, the 68,000-square-foot building project officially broke ground in July 2018 and is set to open in fall 2020. The facility will contain research and teaching labs, and house PNW's College of Nursing and the Department of Biological Sciences. It will be the first new academic building on the Hammond Campus in nearly 20 years.
"It is fitting because PNW was the place where Uncle Nils found himself," said Mary Keith Agnew, one of Nelson's closest living relatives.
Though a second cousin, she affectionately refers to Nelson as "uncle Nils" since her father, Frank Keith, and Nelson were very close growing up in Missouri. The two men thought of themselves as brothers, as each was an only child.
"We are humbled by Dr. Nelson's posthumous generosity," said PNW Chancellor Thomas L. Keon. "Dr. Nelson impacted the lives of students who went on to be chemists, biologists and doctors. Today, we celebrate the continuation of his legacy."
Keon said a substantial amount of Nelson's estate gift of approximately $8 million will be directed toward students through the Dr. Nils K. Nelson Memorial Scholarship. Another portion will establish named professorships in the College of Engineering and Sciences. The remaining amount went to the Bioscience Innovation Building, now named in his honor.
"By his love of Purdue Northwest, Dr. Nelson's commitment to students and his dedication to teaching will live on," said Keon. "The Nils K. Nelson Bioscience Innovation Building will inspire future generations of scientists, researchers and health professionals."
Agnew said her "uncle" was very unassuming, but vivacious. She said Nelson, who never married or had children of his own, devoted his life to his students and loved being in the lab.
"The work and his students were most important to him," Agnew said. "But he also had this other side where he was extremely funny. He always knew how to make a situation humorous."
This is why she thinks Nelson, as an organic chemist, might find humor having his name affixed to a bioscience building in the heart of the campus he knew so well.
Nelson joined the Hammond Campus faculty as an assistant professor in 1962, having taught at the University of Maine and University of Illinois. He pursued teaching after 11 years as a research chemist at Shell Oil Company. He was promoted to associate professor in 1966.
Nelson was nominated by the faculty in 1967 for a special award as "Outstanding Undergraduate Teacher." He was also awarded a one-year sabbatical in 1970 to study new developments in organic chemistry at Cambridge University in England.
At Cambridge, Nelson was appointed a visiting scholar to the Department of Chemistry of Darwin College by renowned British scientist and 1957 Nobel Prize in Chemistry award recipient, Sir Alexander R. Todd.
Born November 10, 1926, Nelson was raised in Farmington, Missouri. He received a Bachelor of Science in Chemical Engineering from the University of Missouri-Rolla in 1946, and a masters and doctorate in organic chemistry from the University of Illinois at Urbana in 1947 and 1949, respectively. He was named Professor Emeritus of Chemistry in 1991. At the age of 90, he passed away July 13, 2017 and was laid to rest alongside his parents in Missouri.
Throughout his life, Nelson lived frugally, but enjoyed traveling. Agnew fondly recalls her father's memories of a cross-country road trip he took with Nelson after the two graduated high school. Later, during summer breaks from teaching, Nelson traveled most of Western Europe by rail and a good part of the United States, Canada and Mexico by bus.
Nelson lived out his retirement in the same studio apartment he had as a professor, just a block away from campus. He enjoyed attending retired professor luncheons and frequenting the former Woodmar Delicatessen. Even as his health diminished, Nelson preferred to remain in his apartment, so he could watch the comings and goings at PNW from his window.
Agnew said, "He liked living around the campus atmosphere. His heart was always at PNW."
When the Nils K. Nelson Bioscience Innovation Building is dedicated, his life's work will continue. He'll be home.