Author Angela Cervantes Details Her Journey as a Writer During Campus Visit
November 11, 2021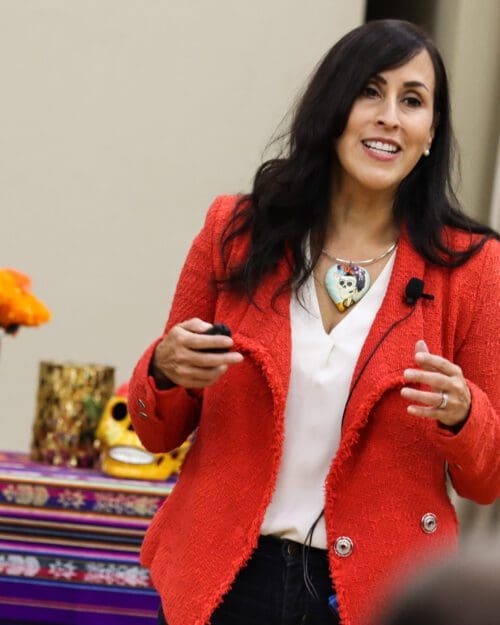 From being a "flashlight girl" to walking a "red carpet" of marigolds, children's book author Angela Cervantes has made her dream come true of bringing Latinx characters to literature and film.
Cervantes gave book talks and met with primary school and college students Nov. 1 and 2 at Purdue University Northwest (PNW) in tandem with the Dia de los Muertos holiday. The annual celebration, which has Latin American roots, honors families' deceased relatives through food, drink, and music.
Cervantes has authored six books, including the junior novelization for the Pixar film Coco. She also wrote the novelization accompanying the upcoming picture Encanto.
Following Her Passion
During a talk Nov. 1 in Alumni Hall at the Student Union and Library, Cervantes recalled her time growing up in Kansas being a "flashlight girl" who would stay up late reading books like Charlotte's Web and The Chronicles of Narnia. However, she expressed frustration when she was eight years-old to her school librarian that they weren't characters who looked like her, a Latina child. She made incorporating more representation her mission.
Cervantes toiled through numerous rejections, but finally caught her break when Scholastic Publishing took on Gaby, Lost and Found. Scholastic agreed to sell 150,000 copies of the book, a generous estimate for a first-time book, Cervantes recalls. She exceeded that with over 400,000 copies sold.
Eventually, Cervantes rose up to be offered the chance to compose the derivative work accompanying Coco. Cervantes even attended the film premiere, walking the "red carpet" filled with marigolds, the traditional flower commemorating the deceased on Dia de los Muertos.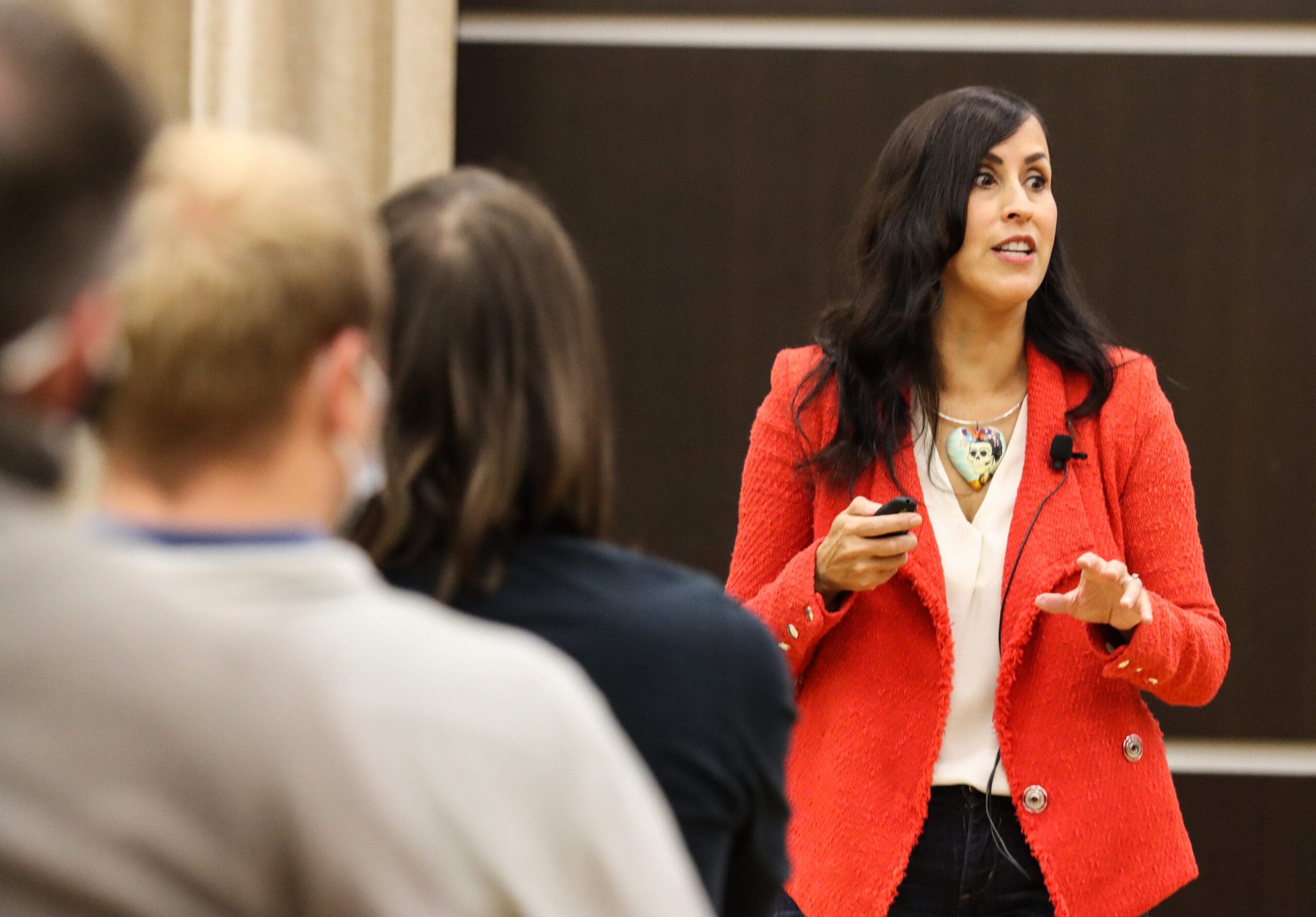 "Not Just One Story"
Cervantes during her talk expressed she doesn't let herself become pigeon-holed telling the story of the token Latina who has had to overcome extraordinary circumstances amongst Caucasian peers. Rather, she says Latin American families and influences are ever-present and not just one storyline tampered down to the "chili con queso version."
"It's important we have not just one story, but many, many stories," she says.
Cervantes says she enjoyed attending PNW to meet students and other book lovers during the Dia de los Muertos holiday.
"The fact they brought a Latinx author in to speak to their students shows a commitment to diversity and also a commitment to Latinx literature. I never had an author come visit my school, I didn't know who the Latinx authors were until I went to college. Maybe my speech and presentation will lead them on a path to discover more Latinx authors."