Campus Safety Front and Center at Purdue University Northwest with Grant from NIPSCO
October 1, 2021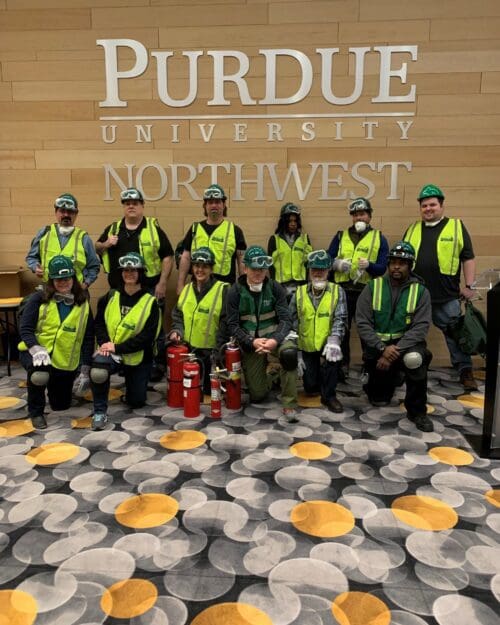 Purdue University Northwest (PNW) plays host to thousands of students, staff, faculty members and visitors each day, making campus safety a top priority. The university has many safety initiatives in place and one of those programs, the Community Emergency Response Team (CERT), received a public safety education and training grant from the Northern Indiana Public Service Company (NIPSCO).
Equipment and Training Top Priorities
The $5,000 NIPSCO grant will go towards purchasing and upgrading equipment for training PNW volunteers in disaster preparedness and for use in emergency situations. In addition, the grant will also allow the university to continue to provide no-cost training for certain community groups. 
"Having a CERT program makes Purdue Northwest better prepared for any kind of emergency situation," says Brian Miller, director of Public Safety at PNW. "In the past, we've had to borrow equipment or cancel training sessions because of the lack of needed materials. Our goal with this grant is to have our own permanent training equipment so we can consistently offer training at both campuses." 
What Is a CERT?
The PNW CERT program organizes and trains teams of campus volunteers in basic disaster preparedness and response skills, including fire safety and utility controls, light search and rescue, disaster psychology and medical operations. Each volunteer undergoes 24 hours of FEMA mandated training and must pass a practical final exam. 
"During the early stages of a disaster many people may find themselves confused, on their own and struggling to determine their next steps," says Miller. "The Purdue Northwest CERT trains to respond and recover from emergency events. In the event of a disaster, team members coordinate and assist professional first responders who may not be immediately available to provide assistance."
Performing basic response activities, like checking on campus members and local residents, distributing information, supporting emergency operation centers and helping to manage traffic and crowds, allows the professional first responders to focus their efforts on more complex tasks. 
Having a CERT program makes Purdue Northwest better prepared for any kind of emergency situation.




Benefit to the Community 
The grant is part of NIPSCO's annual program that funds local safety education and training projects in Northern Indiana. This year, NIPSCO granted a total of $63,000 to 18 organizations within NIPSCO's service territory.
According to the press release issued by NIPSCO, Mike Hooper, president of the utility company commented, "At NIPSCO, our primary focus is to safely deliver reliable energy services to our customers, and we have a relentless focus on keeping our customers, communities and employees safe in everything we do. We always look to add layers of protection wherever possible, and programs like these are exactly the kind we want to support in their pursuit of enhanced public safety."
"The NIPSCO grant benefits PNW and its surrounding communities," says Miller. "In any kind of emergency situation, the volunteers we've trained will be able to take their training into their communities and neighborhoods. It's a way of adding to the communities we serve."
The PNW CERT program has been in existence since 2012 on the Westville campus and 2017 on the Hammond campus.