ECON 31100: Environmental Economics
ECON 31100 (CRN # 11756, SECTION 1, DISTANCE LEARNING)
ENVIRONMENTAL ECONOMICS 
FALL 2017
Instructor: Dr. Amlan Mitra
Online Meeting: Blackboard (August 22, 2016 – December 17, 2016)
Office: Classroom Office Building, CLO 248
Office Hours: Mon/Wed: Noon-1:50 P.M.; and by appointment
Telephone: (219)989-2313
E-mail: mitraa@pnw.edu
Department Contact: (219)989-2623; Porter Hall 209, 2200 169th Street, IN 46323-2094
COURSE DESCRIPTION (University Catalog)
This course provides an overview of environmental issues and legislations in the United States.  Emphasis is placed on understanding and analyzing environmental problems applying basic principles of economics.  This course explores the causes of environmental problems and evaluates the various policy instruments that are often used to address them at the international, national, state, and local levels.
PRE-REQUISITE:  ECON 21000 or ECON 25100
COURSE GOAL
The overall goal of this course is to focus on all the different facets of the connection between environmental quality and the economic behavior of individuals and groups of people. With this knowledge, students should be able to recognize and analyze situations pertaining to environmental issues.  Simply stated, you will learn the economic way of dealing with environmental problems by examining and illustrating how economic tools can be used to assess environmental problems and evaluate environmental policies.  The course will complement the theory with real-world applications.
REQUIRED TEXT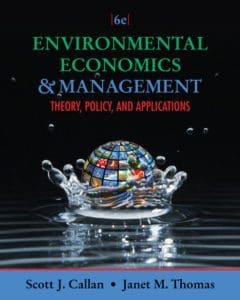 Environmental Economics and Management: Theory, Policy, and Applications, 6th Edition
Scott J. Callan | Janet M. Thomas
ISBN-13: 9781111826673
© 2013
All Options Available: New/Used/E-Book/Rental
Other assigned readings will be referenced.  All students MUST have access to the Internet to participate in this Blackboard Course.
LEARNING OBJECTIVES
Upon completion of this course, students should be able to:
Examine the market system, the externalities causing market failure, and the mechanisms to correct for externalities.
Examine the conventional and economic solutions to environmental problems.
Explain the basics of cost-benefit analysis and the problems associated with their measurements.
Examine U.S. policies on air pollution, water pollution, solid & hazardous wastes, and global environment.
Apply economic tools for evaluating environmental policies.
ASSESSMENT OF LEARNING OBJECTIVES
Completing assigned readings, homework assignments, quizzes, exams, and term paper are the basic requirements to meet our five learning objectives. Each of these five learning objectives will be assessed in the following way:
| | |
| --- | --- |
| Learning Objectives | Assessment Tools |
| 1 | Quizzes 1, 2, 3 |
| 2 | Quizzes 4, 5 |
| 3 | Quizzes 6, 7, 8, 9 |
| 4 | Quizzes 10-21 |
| 5 | Final and Term Paper |
LEARNING MODULES
| | | | |
| --- | --- | --- | --- |
| Learning Objectives | Learning Module | Title | Text Chapters |
| 1 | Module 1 | Introduction and Modeling the Market Process and Market Failure | 1-3 |
| 2 | Module 2 | Modeling Solutions to Environmental Problems | 4,5 |
| 3 | Module 3 | Cost-Benefit Analysis | 6-9 |
| 4 & 5 | Module 4 | Air Pollution Control & Policy | 10-13 |
| 4 & 5 | Module 5 | Water Pollution Control & Policy | 14-16 |
| 4 & 5 | Module 6 | Solid & Toxic Waste Control & Policy | 17-19 |
| 4 & 5 | Module 7 | Sustainable Development | 20-21 |
STUDENT EVALUATION POLICIES
GRADING POLICY  Participating in the three discussion boards online, completing assigned readings, five quizzes, and a comprehensive final exam are the basic requirements to meet the learning objectives.  Each quiz and exam will be some combination of true-false, multiple-choice, problems and applications.  The student's overall percentage score is based upon the following weights:
| | |
| --- | --- |
| Top 20 Quizzes | 200 points (10 points per quiz) |
| Comprehensive Final Exam | 200 points |
| Term Paper | 50 points |
| Course Participation | 50 points |
Grading Criteria: Plus minus grading system will be used for the course based on your overall points and any adjustment for perfect attendance or excess absences:
| | | |
| --- | --- | --- |
| A+: 485 – 500; | A: 465 – 484; | A-: 450 – 464 |
| B+: 435 – 449; | B: 415 – 434; | B-: 400 – 414 |
| C+: 385 – 399; | C: 365 – 384; | C-: 350 – 364 |
| D+: 335 – 349; | D: 315 – 334; | D-: 300 – 314 |
| F: Below 300 | | |
Course Participation Grade up to 50 points is possible for completing all online assignments (including homework and discussion board assignments) according to the following criteria:
All satisfactory (S) assignments: 50 points.  For each unsatisfactory (U) assignment 5 points will be deducted.  So, if you receive 2 U's you will get 40 points.  If you receive 10 U's you will receive a "zero" in course participation.    
QUIZZES
There will be quizzes every week consisting of multiple choice and true/false questions on all assigned chapters.  Top 20 quizzes count towards your grade.  The quizzes will be due by Sunday midnight before the new chapters are assigned for the following week.  Please check Blackboard regularly for the due dates.
HOMEWORK ASSIGNMENTS
There will be FIVE homework assignments during the entire semester.  These assignments will count towards course participation grade (See above) and will consist of short essay questions.  Please check Blackboard regularly for the due dates.
DISCUSSION BOARD
There will be THREE discussion topics posted on the DISCUSSION BOARD in BLACKBOARD.  This will count towards your course participation grade.  Each student is expected to participate in each discussion topic in a substantive manner.  Your participation should demonstrate and satisfy the following five criteria:
Knowledge of the discussion topic
Logical and focused arguments/analysis
Asking thought provoking questions to other students
Logical and focused responses to questions posed by others
Engaging communication through multiple postings
Equal weights will be given to each of the above five criteria.  Your grade will be based on your participation in all of these five criteria.  Your participation will be graded based on the following:
1) Your first post will be your complete response to the topic satisfying the five criteria stated above.
2) Subsequent posts (at least two posts) will be asking questions and responding to other posts.
Please check Blackboard regularly for the due dates.
COMPREHENSIVE FINAL EXAM
There will be a COMPREHENSIVE FINAL EXAM conducted online.  It will consist of True/False, MultipleChoice, Short Essay, Problems and Applications.   
TERM PAPER
The topic and the guidelines for the term paper is posted on Blackboard.
DUE DATES & COURSE POLICIES
It is your responsibility to check regularly your Purdue emails and Blackboard for all announcements, including the due dates for all assignments on Blackboard.  Assignments will be posted at least a week in advance of the due dates.  You are strongly encouraged to submit the assignments before the due dates.  Please DO NOT CLICK on any assignments unless you are ready to take it.  If you click it, you MUST take it.  You will not get a second attempt.  No excuses! Also, please DO NOT wait till the last moment to submit these assignments.  This way, you will have a chance to submit at a later time but before the due date and time if there are any online connection problems.  All assignments MUST be submitted through "Blackboard" according to the instructions.  Neither any other forms of submissions nor any late submissions will be accepted.  The quizzes will be timed and consist of 20 – 25 true/false and multiple choice questions.  You are strongly encouraged to submit all assignments because of course participation grade for satisfactorily completing these assignments.  The purpose of these quizzes, homework assignments, and discussion topics is to solidify your understanding of the lecture materials and prepare you for the comprehensive final exam.
Please note that all due dates are subject to change.  Any changes in the due dates will be communicated to you online at least a week in advance.  It is the student's responsibility to note any changes in the due dates announced online.
MAKE-UP POLICY
There are NO MAKE-UPS available.  Therefore, only top 20 Quizzes will be considered for your grade calculation.  Students who fail to submit homework assignments, quizzes and exams due to Internet-related problems caused by Purdue Calumet BLACKBOARD emergency breakdown or failure will be allowed to re-take them.  If Blackboard is not available due to pre-announced regular maintenance, you are still responsible and no makeups will be allowed.  In all other situations (such as your PC-related problems, browser and connection failures), you will not be given any make-up homework assignments, quizzes or exams).  
A NOTE ON ACADEMIC HONESTY
Honesty and integrity in academic and personal pursuits are hallmarks of higher education. By acting honestly and with integrity, students maintain and uphold their own reputations, and the reputation of both the School of Management and the University. The Students Handbook states that "the commitment of the acts of cheating, lying, stealing and deceit in any of their diverse forms (such as the use of ghost-written papers, use of substitutes for taking examinations, the use of illegal cribs, plagiarism, and copying during exams) is dishonest." Also, aiding and abetting in committing dishonest acts is in itself dishonest. The penalty for any student(s) involved in any of such acts will range from an outright zero in the specific assignment the act was committed to a grade of "F" in the course.
HONOR CODE: I understand that academic dishonesty will not be tolerated at Purdue University Calumet. I am here to learn. Through learning, I will strive to become a better person and a more valuable contributor to society. I understand that dishonesty in the classroom, through cheating, plagiarism or other dishonest acts, defeats this purpose and disgraces the mission and quality of a Purdue University Calumet education. Therefore, I make the following pledge: in accordance with the Honor Code, I will not engage in dishonesty in my academic activities, and I will not tolerate such dishonesty by other students.
STUDENTS WITH DISABILITIES: In compliance with the Americans with Disabilities Act (ADA), all qualified students enrolled in this course are entitled to reasonable accommodations. It is the student's responsibility to inform the instructor of any special needs before the end of the second week of class.
A FINAL NOTE:  It is not difficult to do well in this course.  If you are to do well in this class, you must read the assigned chapters thoroughly, review the lecture notes with regularity throughout the semester, and timely submit all your assignments.  Please do not be deceived.  If you think that you will not be able to spend adequate time for this class, you are better off taking it later.
TENTATIVE COURSE SCHEDULE
(Please note that this is a tentative schedule.  Please check Blackboard on a regular basis for due dates and any changes in the due dates for all assignments, quizzes, and exams)
Course Schedule
| Week | Date | Learning Module | Chapter Readings |
| --- | --- | --- | --- |
| 1 | 8/22 – 8/28 | Module 1 | 1, 2 |
| 2 | 8/29 – 9/4 | Module 1 | 3 |
| 3 | 9/6 – 9/11 | Module 2 | 4 |
| 4 | 9/12 – 9/18 | Module 2 | 5 |
| 5 | 9/19 – 9/25 | Module 3 | 6, 7 |
| 6 | 9/26 – 10/2 | Module 3 | 8, 9 |
| 7 | 10/3 – 10/9 | Module 4 | 10, 11 |
| 8 | 10/10 – 10/16 | Module 4 | 11, 12, 13 |
| 9 | 10/17 – 10/23 | Module 4 | 11, 12, 13 |
| 10 | 10/24 – 10/30 | Module 5 | 14, 15, 16 |
| 11 | 10/31 – 11/6 | Module 5 | 14, 15, 16 |
| 12 | 11/7 – 11/13 | Module 6 | 17, 18, 19 |
| 13 | 11/14 – 11/20 | Module 6 | 17, 18, 19 |
| 14 | 11/21 – 11/27 | Module 7 | 20, 21 |
| 15 | 11/28 – 12/4 | Module 7 | 20, 21 |
| 16 | 12/5 – 12/11 | Term Paper due by Sunday midnight, Dec 11 | |
| 17 | 12/14 | Comprehensive Final Exam due by Wednesday midnight, Dec 14 | |