Gift to Purdue Northwest's medical laboratory science program fills industry demand
February 22, 2019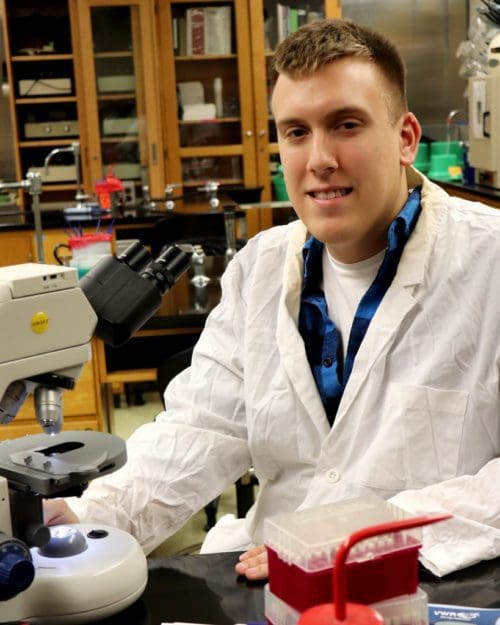 American Society for Clinical Pathology donates $25,000 for student scholarships and program awareness
Brett Oppenhuis, a third year Biological Sciences major at Purdue University Northwest, is one of six students receiving a scholarship from the American Society of Clinical Pathology to pursue his dream of becoming a certified medical laboratory scientist.
Through the lens of a microscope, inside the world of cells, cultures and specimens, is where Brett Oppenhuis eventually found his future career. A third-year Biological Sciences major at Purdue University Northwest (PNW), Oppenhuis is pursuing his dream of becoming a medical laboratory scientist.
Back in high school at Illiana Christian, the Munster, Indiana native's interest in things molecular was cultivated by his high school teacher, who was himself a medical laboratory scientist.
"I always knew I wanted to do something biological and I loved being in the lab, but I wasn't sure which path to take," said Oppenhuis, who considered switching to PNW's highly respected nursing program as his college career began. After visiting the Alverno Laboratories location near PNW's Hammond Campus the summer after his first year, the path for him became clearer.
Alverno is one of the prime employment destinations for graduates of Purdue Northwest's medical laboratory science program, said Feng-Song Wang, Associate Professor of Biology and faculty advisor for students interested in the program.
PNW's Bachelor of Science in Medical Laboratory Science degree is a four-year program that prepares students with a solid foundation in science and math during the first three years, concluding with a final year of clinical training at an affiliated healthcare facility.
This academic year, the American Society for Clinical Pathology (ASCP) has donated $25,000 toward student scholarships and raising awareness of PNW's medical laboratory science program. Oppenhuis is one of six students who were awarded ASCP scholarships during this spring semester.
"Medical laboratory science is a field of medicine that performs laboratory tests on clinical specimens such as blood, microbial cultures, and tissue samples," said Robin Scribailo, interim department head and Professor of Biology in PNW's College of Engineering and Sciences. "Physicians rely on test results for diagnosis and determining appropriate treatments."
Advances in biological sciences and the availability of progressively more sensitive and rapid assay techniques, along with an aging population, is expected to generate a greater demand among healthcare providers to diagnose medical conditions, such as diabetes and certain cancers, through laboratory procedures according to the U.S. Bureau of Labor Statistics. Employment for medical laboratory professionals is expected to grow 14 percent between 2016 and 2026, faster than the average for all occupations.
"The overall medical laboratory workforce across the United States is gradually getting younger as increased numbers of longtime employees in the profession are retiring," said E. Blair Holladay, PhD, MASCP, SCT(ASCP)CM, ASCP Chief Executive Officer. "Awareness of the career opportunities and value of the profession is needed to strengthen the future of the field."
ASCP has taken notice of increasing demand for certified medical laboratory professionals in and around Northwest Indiana. The ASCP Board of Certification is the largest provider of certification for medical laboratory professionals worldwide.
With Purdue University Northwest having one of the few medical laboratory science programs across northern Indiana, ASCP Chief Financial Officer Robert Lendi, who himself attended classes at PNW's Hammond Campus, saw the opportunity for ASCP to partner with PNW's College of Engineering and Sciences to address the need.
"ASCP is tackling the critical workforce shortage by providing student scholarships that will help build the pipeline of medical laboratory professionals for the future," said Lendi. "It's a privilege to be working with PNW on this valuable goal."
"We are grateful for the partnership with ASCP. Their generosity fits well with our commitment as a college to student success, and our focus as a university on being a hub of innovation and economic growth for the entire region," said Kenneth Holford, dean of PNW's College of Engineering and Sciences.
Back in the lab, lifting his head from the microscope to refocus on the months ahead, Oppenhuis said he's already searching for a summer internship and looks forward to his final year of clinical training.
"I would like to start my career working in a hospital lab," said Oppenhuis. "Earning the scholarship has been really helpful. To know my hard work has been noticed only drives me to work harder."