Jacqueline Garcia
Community Service Chair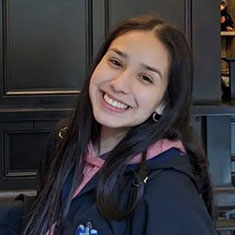 Introduction
My name is Jacqueline Garcia and I am a sophomore majoring in Early Childhood Education with a concentration in Special Education, along with a Spanish minor. I am super excited to be the Service Chair for the HSAB for this upcoming 2023-2024 school year!
As the Community Service Chair my goal is to help plan, seek and execute many different kinds of community service activities to offer the students of the Honors College. I am looking forward to getting to work with our amazing Honors College students and staff!
I'm currently a student worker for Trio SSS. I also work as a substitute teacher at a local elementary school. Outside of school, I like to spend time with family and friends. I absolutely love to bake. I also like to walk my dog and watch Disney movies.