Late Purdue University Northwest Professor Emerita's legacy honored
October 18, 2018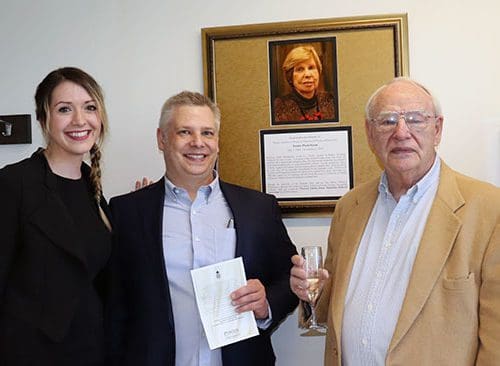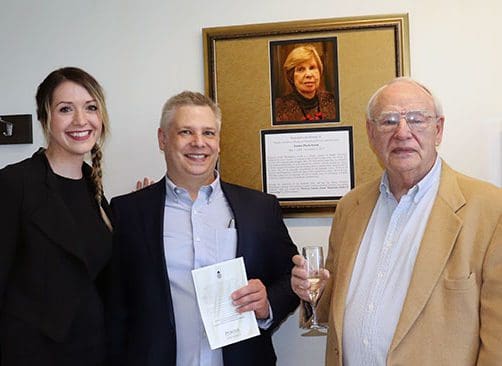 Jack and Bryce Pluckebaum dedicate room and scholarship for wife, mother
A beloved professor, wife and mother was honored at a ceremony yesterday at Purdue University Northwest's (PNW) White Lodging School of Hospitality and Tourism Management Building.
Professor Emerita of Foods and Nutrition Joanne Pluckebaum's legacy of inspiring students to go beyond textbooks was memorialized in a room and scholarship dedicated by her husband and son, Jack and Bryce Pluckebaum.
"She had a great love for teaching," said Jack Pluckebaum, recounting the career of his wife of 54 years who passed last November. "And she loved the sense of community at Purdue Northwest."
Jack and Bryce chose to honor Joanne through a generous donation in her name during Purdue Northwest's annual Day of Giving celebration last April. The gift was realized in a collaborative meeting room and an endowed scholarship for hospitality and tourism management (HTM) students.
Brittany Davidson, a senior HTM student from Michigan City, Indiana, was the inaugural recipient of the "Professor Emerita Joanne Pluckebaum Endowed Scholarship." Along with her studies, Brittany is a beverage supervisor at Four Winds Casino in New Buffalo, Michigan, and plans to pursue a career in restaurant, food and beverage management after graduating from Purdue Northwest in May 2019.
Michael Flannery, head of PNW's White Lodging School of Hospitality and Tourism Management, worked with Joanne for many years and said the Pluckebaums' gift is appreciated.
"It is a wonderful way to honor Joanne. She was a very student-centered faculty member and her students loved her," said Flannery.