NIPSCO and the NiSource Charitable Foundation Provide Gift to Support Innovation Makers Summer Camp at Purdue Northwest
July 24, 2023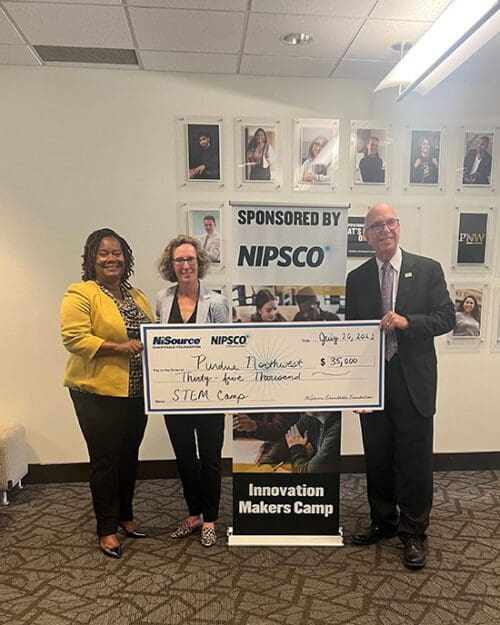 NIPSCO, a NiSource company, in partnership with the NiSource Charitable Foundation, provided a generous gift of $35,000 to support an Innovation Makers Summer Camp at no cost to students. The camp, for Northwest Indiana high school students, hosted at Purdue University Northwest's main campus, supports the joint efforts between PNW and NIPSCO to further the robust STEM programs by connecting entrepreneurship throughout the university, especially in STEM education.
This immersive experience aims to expose students to the world of entrepreneurship, underscoring the importance of fostering innovative thinking. Understanding the significant role entrepreneurship plays in economic development and job creation, this unique camp offers students a hands-on approach to learning business basics, while encouraging creative problem-solving, strategic planning and leadership skills.
"The camp will not only give students an early insight into entrepreneurship and STEM fields, but also hopes to inspire a new generation of pioneers and innovators," stated Kristen Burton, assistant professor of Entrepreneurship, and the camp's director.
Alexius Barber, Public Affairs and Economic Development Manager for NIPSCO, shared, "The goal is to show students that entrepreneurship is not limited to business.  It's a mindset that can be applied in the STEM fields of science, technology, engineering and mathematics. We are grateful for partners like Purdue Northwest who help drive innovative thinking, especially with young people, to cultivate future talent for the region."