Athula Kulatunga, Ph.D., CEM
Professor, Electrical Engineering Technology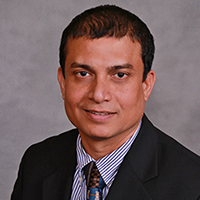 Introduction
Manage department's budget, oversee tenure and promotion processes, curriculum modernization and alternative learning, facility modernization, organize symposiums, global smart grid research.
Research Overview
Leader of a seven country smart grid research consortium called the Consortium of Rapid Smart Grid Impact (CRSGI) funded by the U.S. State Department. CRSGI brings expertise to address global problems in energy efficiency, sustainability, economic viability, electrical vehicle infrastructure problems, Internet of Things for Industry 4.0. Expert in power electronics hardware development.
I love to hike. Hiking taught me how to guide students in learning while enjoying every little discovery and conduct impactful research by being mindful in every moment.
Select Publications
• Kulatunga, N. A. & Sampaio, D. (2019). IoT Platforms and Hardware Integrations for Industry 4.0 Applications, Proceedings of IEEE-ICISS conference , Kandy, Sri Lanka, December, 2019
• Navaratne, U. S*. & Kulatunga, N. A*. (2017). Smart Grid Emulator with a Hardware in-Loop Smart-Meter Infrastructure. Technology Interface International Journal (TIIJ), 17(1) pp. 44-51.
Teaching Focus
Develop new ways to master technical skills related to engineering and technology. Designer of the popular Discipline Specific Skill Acquisition (DSSA) program for first year students.
Previous Roles
Professor of Electrical and Computer Engineering Technology, Purdue University, West Lafayette, IN (2001 to 2015) Associate Professor of Electronics, Southeast Missouri State University, (1995-2000) Process Controls Engineering Technologist, Qatar, (1985-1988)