Carin Chuang, Ph.D.
Professor of Management Information Systems
3MT Competition Administrator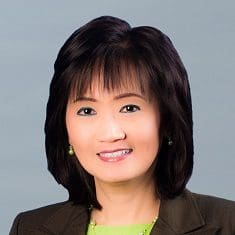 Introduction
Carin Chuang is a Professor of MIS in the Department of Quantitative Business Studies. Her research and teaching focus on ERP implementation, systems analysis and design, data analytics and service-learning
Research Overview
Chuang's research interests focus on enterprise resource planning (ERP) implementation and evaluation, system dynamics and simulation, information systems analysis and design, data analytics for decision support, project management, e-business strategy and service-learning.
Prior to joining academia, Dr. Chuang had 13 years industry experience and worked in well-known Fortune 500 organizations including EDS (Electronic Data Systems), Caterpillar Inc. and Perkins+Will Global.
Select Publications
• Chuang, K.W., Mo, S., Chen, K.C., & Ye, C. (2016) "The Evolving Role of Peer-To-Peer Lending: A New Financing Alternative", Journal of the International Academy for Case Studies, 22(3), 32-38 Case Report and 22(4), 24-33 Instructor Notes.
• Chen, K.C., & Chuang, K. W. (2016). "Building A Cooperative Learning Environment In A Flipped Classroom" Academy of Educational Leadership Journal, 20(2), 8-15.
• Chuang, K. W. (2015) "The Impact of Emerging Soft Skill on Technology Education: Service-Learning Approach" Academic Journal of Science, 04(03), 381–386.