Grace Pigozzi, Ph.D.
Assistant Professor of Elementary and Early Literacy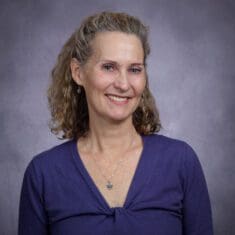 Introduction
Grace Pigozzi's teaching is focused on implementing courses that focus on discovery, learning, and engagement in Elementary/Early Literacy. Her research seeks to find ways of supporting all learners as they strive for academic success through creative self-expression.
Research Overview
Significant areas of scholarship include reading fluency, language development, adolescent writing and multimodality. Conference presentations encompass research on learner collaboration and identity germane to writing in online spaces. Recent research includes a grade three reading project focused on accessing challenging texts.
My hobbies include reading historical fiction, bicycling, and flying trapeze.
Select Publications
Pigozzi, G. (2020). "I got a confession, I still like Pokémon.": Enacting HoMaGo in the creative writing process. Journal of Literacy and Technology, 21(1).
Pigozzi, G. (2020). Young authors online: Exploring the meaning making process through positionings in place and space. Computers and Composition, 56.
Pigozzi, G. (2017). Imagining online research design: Is it connective case study or virtual ethnography? Digital Education and Culture, 9(1), 48-66.
Teaching Focus
I teach courses focused on literacy methods, reading and writing assessment, creating curricula for all learners, and children's media.