Matthew A. Ladwig, Ph.D.
Assistant Professor of Integrative Human Health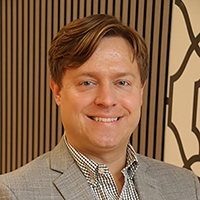 Introduction
Matt is a Kinesiologist who specializes in Exercise Psychology, particularly among youth. As a faculty member at PNW, he focuses on teaching, research and service in integrative human health.
Research Overview
The overarching goal of Matt's research is to understand why children become increasingly sedentary as they age. More specifically, he aims to identify and intervene on the neuro-bio-psycho-social mechanisms underlying the most dramatic decrease in physical activity that occurs proximal to adolescence. Ultimately, Matt hopes to understand how to help children be more physically active across their lifespan.
My hope is that I can help develop students into health professionals who will integrate evidence-based approaches into their careers and their interactions with friends, family and the community.
Select Publications
Ladwig, M. A., Sciamanna, C. N., Auer, B. J., Oser, T. K., Stine, J. G., & Agans, J. P. (2021). When American adults do move, how do they do so? Trends in physical activity intensity, type, and modality: 1988-2017. Journal of Physical Activity & Health, 18(9).
Ladwig, M. A., Sciamanna, C. N., Rovniak, L. S., Conroy, D. E., Auer, B. J., Gottschall, J. S., Silvis, M. L., Smyth, J. M., & Wang, M. (2021). Comparative effectiveness of social physical play versus traditional group exercise for adherence and fitness: Protocol for a randomized-controlled trial. Contemporary Clinical Trials Communications, 21, 100736.
Ladwig, M. A., Ekkekakis, P., & Vazou, S. (2018). "My best memory was when I was done with it": PE memories are associated with adult physical activity. Translational Journal of the American College of Sports Medicine, 3(16), 119- 129.
Ladwig, M. A., Hartman, M. E., & Ekkekakis, P. (2017). Affect-based exercise prescription: An idea whose time has come? ACSM's Health & Fitness Journal, 21(5), 10-15.
Teaching Focus
Integrative Human Health
Exercise Psychology
Research Methodology