Matthew A. Ladwig, Ph.D.
Assistant Professor of Integrative Human Health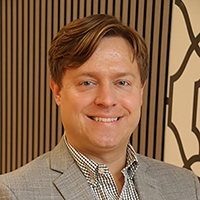 Introduction
Matt is a Kinesiologist who specializes in Exercise and Health Psychology, with a particular focus on the behaviors of children and adolescents. As a PNW faculty member, he focuses on teaching, research, and service in the Integrative Human Health program.
Research Overview
Matt's research aims to understand the neurobiological and psychosocial mechanisms underlying the most dramatic decrease in physical activity that occurs proximal to adolescence. Ultimately, he hopes to intervene to help people be more physically active across their lifespan.
As a first-generation PNW alumnus and Northwest Indiana native, I am thrilled to serve the next generation of PNW students. I aim to develop my students into health and wellness professionals who implement the latest evidence-based approaches in their day-to-day practice and beyond. If these efforts can lead to improvements in health care quality in 'The Region,' I will consider my career a success.
Select Publications
Ladwig, M. A., Sciamanna, C. N., Luzier, G., Blaker, J. M., Agans, J. P., Visek, A. J. (2023). Improving reflective evaluations of sport through repeated experiences of fun – Rationale, design, feasibility, and acceptability of the PlayFit Youth Sport Program. Pilot and Feasibility Studies, 9(1). https://doi.org/10.1186/s40814-023-01350-x
Ladwig, M. A. (2023). Fostering weight status understanding among exercise science and health students by simulating common physical activities with additional body mass. Advances in Physiology Education.
Zenko, Z., & Ladwig, M. A. (2021). Affective responses to exercise: Measurement considerations for practicing professionals. In Z. Zenko & L. Jones (Eds.), Essentials of exercise and sport psychology: An open access textbook (pp. 271–293). Society for the Transparency, Openness, and Replication in Kinesiology.
Ladwig, M. A., Sciamanna, C. N., Auer, B. J., Oser, T. K., Stine, J. G., & Agans, J. P. (2021). When American adults do move, how do they do so? Trends in physical activity intensity, type, and modality: 1988-2017. Journal of Physical Activity & Health, 18(9).
Ladwig, M. A., Sciamanna, C. N., Rovniak, L. S., Conroy, D. E., Auer, B. J., Gottschall, J. S., Silvis, M. L., Smyth, J. M., & Wang, M. (2021). Comparative effectiveness of social physical play versus traditional group exercise for adherence and fitness: Protocol for a randomized-controlled trial. Contemporary Clinical Trials Communications, 21, 100736.
Teaching Focus
Matt's teaching focus is on Integrative Human Health courses, such as first-year experience, exercise and health psychology, human lifespan development, cultural diversity in health and illness, and stress management.