Michael R. Lynn, Ph.D.
Interim Department Chair of English and World Languages & Interim Department Chair of History, Philosophy, Politics and Economics
Professor of History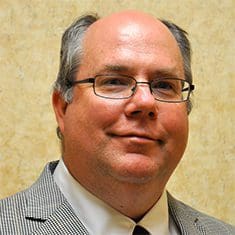 Introduction
Michael Lynn is a professor of History in the Department of History and Philosophy. His research and teaching focus on the social and cultural history of Europe, especially between 1400 and 1800.
Research Overview
Lynn's research analyzes the relationship between science and magic in seventeenth and eighteenth-century France. He has published articles on chiromancy (palm reading) and spontaneous human combustion and is working on the history of tarot cards, vampirism and ventriloquism.
Select Publications
Popular Science and Public Opinion in Eighteenth-Century France (2006)
The Sublime Invention: Ballooning in Europe, 1783-1820 (2010)
The Curious Science: Chiromancy in Early Modern France, Magic, Ritual and Religion 13 (2018): 447-480.
Teaching Focus
Lynn teaches introductory classes in European History, as well as upper level classes on religion, magic and witchcraft; the renaissance and reformation; the enlightenment and the French revolution; the history of science and the history of human rights.