Mohammed Errihani, Ph.D.
Associate Professor of Linguistics
Director of the English Language Program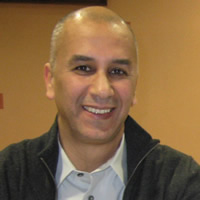 Introduction
Mohammed Errihani is an associate professor of linguistics at Purdue University Northwest where he teaches courses in linguistics, history of English, writing, and other language-related courses.
Research Overview
My research focuses on language policy and planning, language in education policy, especially in Morocco, the teaching of English as a second / foreign language, and rhetoric.
Since I grew up in Morocco and currently live and work in the U.S., I am fluent in 3 languages. That's a fact! I coached a college soccer team for one year after the coach was fired. That's because I played soccer in college and in second and third divisions in Morocco. That's a fun fact!
Select Publications
Language, Power, and the Economics of Education (Book-in progress) (2021)
Springer. "Language and Social Class: Speaking Darija with the "right" accent." Journal of North African Studies. 21.5(2016): 1-24.
"English Education Policy and Practice in Morocco." English Language Education Policy in the Middle East and North Africa. Kirkpatrick, Robert (ed.). Springer International Publishing AG: 2017. 115-131.
Teaching Focus
History of English Writing Introduction to Linguistics Experiential Learning and Peer Mentoring Grammar for Teaching Majors
Previous Roles
Founder and former director of the ESL program at Purdue University Northwest (2007-2016).