Nasser Houshangi, Ph.D.
Professor of Electrical Engineering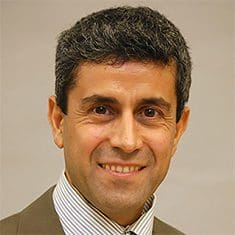 Introduction
Nasser Houshangi is a faculty member in the department of electrical and computer engineering.
Research Overview
Current research is in the area of learning control in robotics, autonomous navigation using Simultaneous Localization and Mapping (SLAM) and a multisensory integration system for mobile robot position determination. Robot learning is going to be the key ingredient for the future of autonomous robots. He has supervised eleven master thesis and numerous students for undergraduate research.
Engineering is fun!
Select Publications
Why I became an engineer…
For me, the answer was pretty simple. I always thought engineers had the best job in the world—and they also seemed to have lots of fun doing what they did. I also wanted to make the world a better place—and engineers do that by developing technologies and using the tools of scientific discovery to develop elegant solutions to really complex problems.
What engineers can do to make a difference…
Making the world a better place by developing technologies and engineering the tools of scientific discovery.
Teaching Focus
Robotics, Control Systems, Adaptive Control, Computer Architecture and Networking – Houshangi has more than 25 years of experience teaching and developing undergraduate and graduate courses. He has taught 15 undergraduate and five graduate courses at Purdue University Northwest. Houshangi has been involved in curriculum development for many years.
Previous Roles
Professor, Electrical Engineering
Department Head of Electrical Engineering
Computer Engineering Program Coordinator
Engineering Program Assessment Coordinator