Raida Abuizam, Ph.D.
Associate Dean of Accreditation, Assessment and Graduate Studies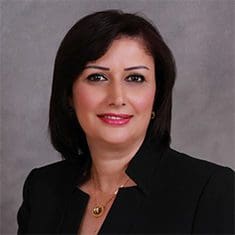 Introduction
I lead a team of people who focus on student success. I am responsible for the Center for Learning and Academic Success, Center for Faculty Excellence and chair the Task Force on Retention.
Research Overview
Raida's research focuses on applying data analytics in solving real world problems for different industries. Raida enjoys exploring unique solutions to tackle different business issues occurring in our economy.
Teaching Focus
Raida enjoys teaching in the Executive MBA program that advances professionals in the workforce obtain their MBA. She enjoys applying business analytics to real world scenarios to optimize operational business decision making. Raida continues to teach operations management and statistics to her undergraduate students. Raida is passionately devoted to her students and ensuring their future success.
Previous Roles
Associate Dean for Undergraduate Programs at the College of Business
Department Chair, Quantitative Business Studies at the College of Business
Raida enjoys spending time with family, in particular her grandchildren. She loves attending their events and watching them grow before her eyes. She loves to travel the world and has visited over 20 countries worldwide. Raida is very cultured and enjoys learning about different ethnicities. She also enjoys listening to music from all over the world.