Shengyong Zhang, Ph.D.
Associate Professor of Mechanical Engineering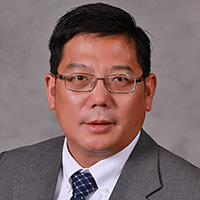 Introduction
Dr. Shengyong Zhang is an associate professor of mechanical engineering at the Purdue University Northwest – Westville campus. His key responsibilities include teaching, research and service.
Research Overview
Dr. Zhang has research interests in the areas of computer modeling and simulation, vibration and acoustics, system dynamics, and automobile lightweight design.
Select Publications
Zhang, S.Y. (2020). "Engineering Application Projects for Teaching Engineering Mathematics and Numerical Methods." 127th ASEE Annual Conference & Exposition, Montreal, Canada. Zhang, S.Y. (2019).
"Incorporating Finite Element Analysis Based Projects in Teaching Machine Component Design." 126th ASEE Annual Conference & Exposition, Tampa, Florida. Zhang, S.Y., (2017).
"Improving Stiffness-to-Weight Ratio of Spot-Welded Structures Based upon Nonlinear Finite Element Modeling," International Conference on Mechanics and Mechatronics Research, June 20-24, 2017, Xi'an, China.
Teaching Focus
Dr. Zhang teaches an array of mechanical engineering courses in the field of solid mechanics, including Mechanics of Materials, Machine Design, Kinematic Analysis and Design, Engineering Vibration, Finite Element Analysis, and more
Why I became an engineer…
I became an engineer because I have encountered many excellent professors during my studies at different universities. I was deeply impressed by their passion and enthusiasm in their teachings. After obtaining my Ph.D. degree, I decided to invest in higher education and hope I could similarly impact the younger generation as my professors influenced me with their passion.
What engineers can do to make a difference…
Mechanical engineering is a crucial for the development and creation of a clearer, safer and more sustainable world. Current challenges varies from new energy applications, environmental improvements, and optimum transportation solutions, etc. Such challenges demand mechanical engineers to equip themselves with an extensive knowledge of both contemporary engineering and non-engineering issues. To do so, engineers must recognize the need to engage in life-long assimilation and learning. As an engineering educator, I believe the present challenge is to encourage genuine engineering interests among outstanding youths within the younger generation.