Shengyong Zhang, Ph.D.
Associate Professor of Mechanical Engineering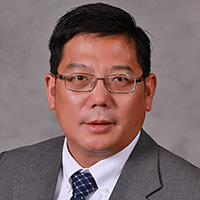 Introduction
Shengyong Zhang, Ph.D. is an associate professor of mechanical engineering at Purdue University Northwest. His key responsibilities include teaching, research and service.
Research Overview
Shengyong Zhang has research interests in the areas of Finite Element Analysis, Vibration and Acoustics, Thin-Walled Structures, Lightweight Design of Conventional and Electric Vehicles, and Engineering Education. The goals are to optimize the performance-to-weight ratios, evaluate overall efficiency of conventional and electric vehicle architectures, and bridge the gap between engineering education and engineering practice by developing an ability for students to solve real-world engineering problems and foster critical thinking.
Select Publications
Ou, S., Lin, Z., Jiang, Y. and Zhang, S. (2022) "Quantifying Policy Gaps for Achieving the Net-zero GHG Emissions Target in the U.S. Light-duty Vehicle Market Through Electrification," Journal of Cleaner Production, Volume 380, Part 2. https://doi.org/10.1016/j.jclepro.2022.135000
Zhang, S. (2022) "Gauge Sensitivity Methods for Assessing and Mitigating Buckling Effects Present within Vehicle Body Structures," International Journal of Vehicle Design, Vol. 88, No 1, 2022, 56-73.
Ou, S., Zhang, S., Lin, Z. and Stacy Davis (2023) "Using Perceived Ownership Cost to Determining Optimal Electric Range with Considering Electric Vehicle Lightweighting," SAE World Congress 2023, Detroit MI.
Theril, K. and Zhang, S. (2022) "Automated CAD Modelling of Cam Profiles and FEA Fatigue Analysis of Cam-Follower Mechanisms," ASME International Design Engineering Technical Conferences, St. Louis, Missouri, August 14-17, 2022.
Zhang, S. (2022) "Vibration Analysis Projects of Lumped-Parameter and Distributed-Parameter Systems," 128th ASEE Annual Conference & Exposition, Minneapolis, Minnesota, June 26-29, 2022.
Teaching Focus
Shengyong Zhang teaches engineering courses for undergraduate and graduate students, including Statics and Dynamics, Mechanics of Materials, Machine Design, Kinematic Analysis and Design, Engineering Vibration, Finite Element Analysis, and more.
Why I Became an Engineer…
I invest in higher education and hope I could similarly impact the younger generation as my professors who have influenced me with their passion and enthusiasm in their teachings.
What Engineers Can Do to Make a Difference…
Mechanical engineering is crucial for the development and creation of a clearer, safer and more sustainable world. Current challenges vary from new energy applications, environmental improvements, and optimum transportation solutions, etc. Such challenges demand mechanical engineers to equip themselves with an extensive knowledge of both contemporary engineering and non-engineering issues. To do so, engineers must recognize the need to engage in life-long assimilation and learning. As an engineering educator, I believe the present challenge is to encourage genuine engineering interests among outstanding youths within the younger generation.