Xiuling Wang, Ph.D.
Associate Professor of Mechanical Engineering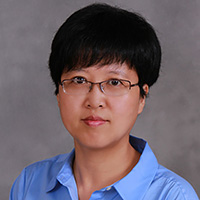 Introduction
Xiuling Wang is an associate professor of mechanical and civil engineering. Her teaching and researching focus on thermal fluids.
Select Publications
S. Wang and X. Wang, "Modeling and analysis of the effects of noise barrier shape and inflow conditions on highway automobiles emission dispersion", Fluids, v 4, n3, 151, 2019.
X. Wang, Y. Liu, B. Chen and D. Pepper, "An improved mass consistent model for three-dimensional wind filed construction", ASME Journal of Energy Resources Technology, 141 (5), 051208, 2019.
L. Gong and X. Wang, "Numerical Study of Noise Barriers' Side Edge Effects on Pollutant Dispersion near Roadside under Various Thermal Stability Conditions", Fluids, v3, n4, 105, 2018.
Why I became an engineer…
I became an engineer because it is a lifetime creative job.
What engineers can do to make a difference…
I feel that the challenge facing engineers in today's global society is reducing energy use.