PNW Announced Two Exciting Developments
February 23, 2021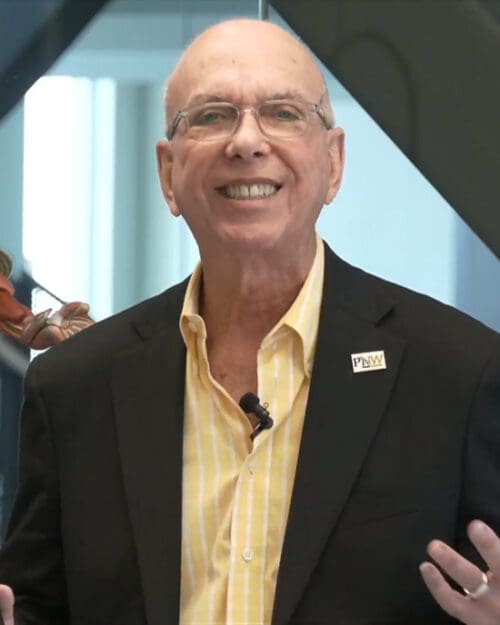 Dear Colleagues:
Yesterday PNW announced two exciting developments.
I am very pleased to share the news that Purdue Northwest has been selected as the host institution for the 2021 Great Lakes Intercollegiate Athletic Conference (GLIAC) Men's and Women's Basketball Tournaments. PNW's outstanding facilities, especially the Dworkin Center at the Westville Campus, were key factors in attracting this marquee event to Northwest Indiana.
We will host 16 teams over the weekend of March 4-7, providing a significant economic impact to the regional economy and shining a national spotlight on our university.
Congratulations to Director of Athletics Rick Costello, the entire Athletics staff, and our student-athletes! Read the news release on our PNW and Athletics websites.
Meanwhile, the team at the Center for Innovation through Visualization and Simulation (CIVS) has been awarded a $7 million federal grant to improve steelmaking processes. This Department of Energy grant will be used to develop a next-generation Integrated Virtual Blast Furnace, a platform for improving operational and energy efficiency in industrial blast furnaces.
Frank J. Mrvan, congressman for the First District of Indiana, commended "the incredible benefit that the research at Purdue Northwest provides our industrial manufacturing base." Read more about the DOE grant on our PNW website.
Congratulations to Dr. Chenn Zhou, the NIPSCO Distinguished Professor of Engineering Simulation and director of CIVS, for another in a long line of significant research grants connected to business and industry. Dr. Zhou exemplifies the quality research and scholarship of so many colleagues at PNW who are creating positive impact in Northwest Indiana and beyond.
PNW Chancellor Thomas L. Keon