PNW Officer Offers Shelter During Storm
July 5, 2019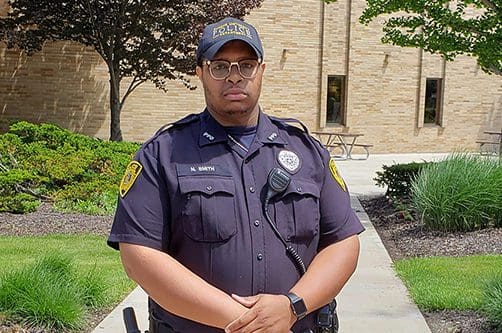 When a severe storm approached PNW's Westville campus, Officer Nicolas Smith went above and beyond to offer emergency shelter to stranded motorists.
Last Memorial Day was a memorable one for 30 motorists seeking shelter from a torrential storm, along with Officer Nicolas Smith of Purdue University Northwest's (PNW) Westville Campus, whose quick actions ensured lives were kept safe.
That afternoon, the National Weather Service issued a tornado warning for the Westville Campus. Funnel clouds had been spotted in the area and a real emergency situation was beginning to take shape.
As the storm ripped across the area, vehicles traveling along SR 421 began pulling into PNW's parking lot. Though the campus was closed, Officer Smith was on duty and patrolling the grounds. When he observed several cars pulling in, he approached the unexpected visitors and learned they had received emergency messages to take immediate shelter.
Officer Smith took the initiative to provide the startled travelers shelter in a basement classroom. He then went back outside to pull more people in from the storm. In the end, 30 people safely waited out the storm at PNW for about 90 minutes, until the dangerous conditions passed.
Officer Smith's cool thinking, selflessness, compassion, and devotion went above and beyond the call of duty. He utilized the resources of the university to aid others in an emergency.
Purdue University Northwest officers are fully commissioned by the State of Indiana and operate around the clock, 365 days a year, providing the campus community with law-enforcement services that enhance safety and security.
Well done, Officer Smith. Roar Pride!