PNW student represents USA at World University Games
February 14, 2023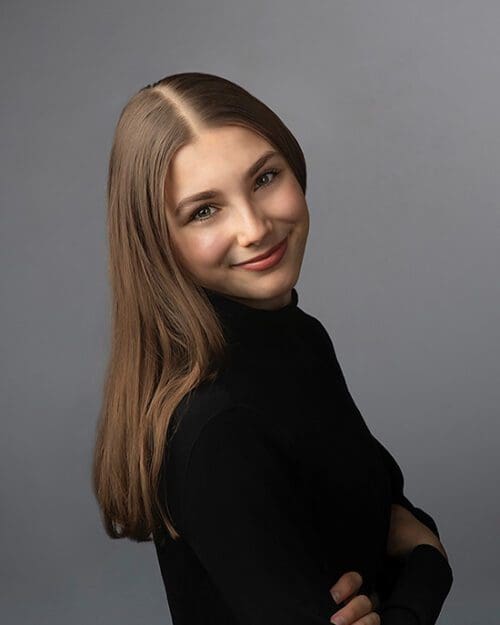 Purdue University Northwest (PNW) first-year student Finley Hawk, a Communications: Advertising and Broadcasting major, recently competed at the 2023 Fédération Internationale du Sport Universitaire, or International University Sports Federation (FISU), Winter World University Games in Lake Placid, New York. Hawk, a figure skater, represented Team USA at the international competition.
"I felt incredibly happy and excited," Hawk said of the moment she learned she made the team. "The World University Games are similar to the Olympics — it's the Olympics for university students. I am grateful for the opportunity to have been able to participate."
In addition to competing, Hawk participated in the Opening Ceremonies, attended live music concerts in the downtown Lake Placid area, met other university athletes from all over the world by participating in pin-trading and attended a long-jump skiing program with other Team USA athletes. However, her interaction with fellow athletes made the greatest impression.
"I would say the biggest takeaway from the experience was to not limit myself in terms of goals both in and out of skating," says Hawk. "Meeting other athletes who have interests outside of their sport and are successful at both provided me with a different perspective. I love skating but I also want to grow more as a person and not just an athlete."
Part of that growth process is attending PNW. Hawk, a Munster, Indiana resident, chose the university for several reasons, including being able to commute to classes while continuing to train and skate competitively. She also cited the "incredible academic scholars among the PNW faculty."
Hawk fell in love with figure skating the moment she first stepped onto the ice. An offer for a free skating lesson she received in kindergarten first piqued her interest. "I begged my parents to take me to the rink for the free lesson," Hawk explained. "I fell in love with skating immediately and continued with classes and progressed from there." She began skating competitively around age 15, competing in several high-level competitions including Skate America and the U.S. Figure Skating Championships.
"Wearing the Team USA jacket and representing the U.S. is one of my favorite moments of competing – I've had that goal for a long time," Hawk said. "Finishing my program and hearing the audience cheer – being present in that moment and appreciating the culmination of all my hard work – that's my other favorite moment."
Hawk plans to continue skating competitively while pursuing her degree at PNW.
The FISU Winter World University Games, staged every two years in a different city, is the largest international winter multi-sport event for university athletes. The 11-day competition featured nine compulsory sports and 2,500 participants from more than 50 countries.
Finley Hawk on the Ice