PNW to celebrate Hispanic Heritage Month with series of events
August 22, 2023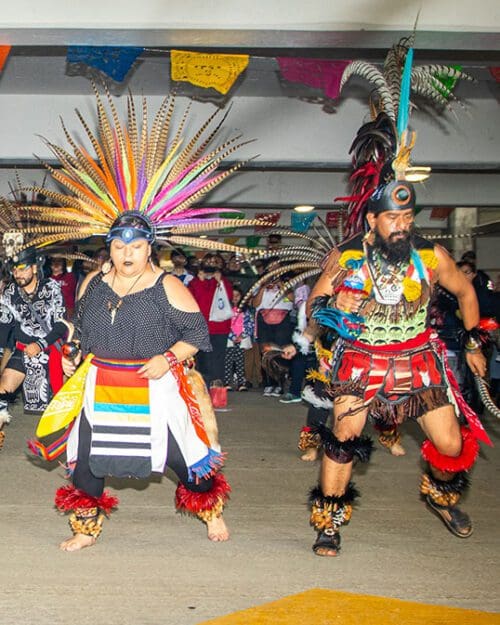 Purdue University Northwest (PNW) will celebrate Hispanic Heritage Month with a variety of cultural and academic events that honor the rich history, diversity and culture of the Latino communities. The events will run Sept. 14 through Oct. 13.
"It's important as an emerging Hispanic-Serving Institution that we honor the heritage and culture of our students," says Iris Sanchez, director of Hispanic-Serving Institution Initiatives at PNW. "This celebration helps create a sense of belonging and gives these students representation on campus."
The celebration features PNW's popular annual Hispanic Heritage Festival, plus a wide range of events and activities planned throughout the month, including an immigration conference; a Latino comedy night; cumbia, bachata and salsa dance lessons; and a luncheon to recognize outstanding Latino student leaders, faculty and staff.
View event information and updates
The month-long celebration starts on Sept. 14 at Founder's Plaza on the main Hammond Campus with the PNW Spanish Club's re-enactment of "El Grito", a speech that declared the pursuit of independence from Spain. The event will feature Mexican food, mariachis and Aztec dancers.
A first-time concert event, Pachanga at PNW, is scheduled for Sept. 22 from 5 p.m. to 10 p.m. at the parking garage on the Hammond campus, 2200 169th St., Hammond, IN. Popular social media artist Brenden Perez, Spanish rock band LaMor, the Tamorazo Chanillos and DJ Impact will perform.
The annual Hispanic Heritage Festival will close out the month-long celebration on Oct. 13 from 4 p.m. to 8 p.m. at the main Hammond campus' parking garage. The festival will feature local food vendors, family-friendly activities and live entertainment, including Mariachi Sirenas, Xel-Ha folkloric dance group and singer Melannie Gonzalez.
"I hope those who attend these events get a sense of collaboration, unity and connectedness from campus," says Sanchez. "I also hope they learn about our community and heritage. Most of all, I hope everyone feels welcome."
PNW is committed to providing a welcoming and inclusive environment for the university and neighboring communities. PNW annually celebrates Hispanic Heritage Month to recognize and highlight the diverse peoples, histories and cultures in the Latino diaspora.
PNW is also an emerging Hispanic-Serving Institution. The U.S. Dept. of Education provides the designation for higher education institutions that have an undergraduate student population that is at least 25% self-identifying as Hispanic or Latino, and which demonstrates significant efforts to enhance the outcomes of Latino students at the institution.
As of fall 2022, PNW's undergraduate student population was 25.8% Hispanic or Latino. PNW's office of Hispanic-Serving Institution Initiatives, Educational Opportunity Programs and TRIO services provide programming and outreach for Latino and other historically underrepresented and first-generation students.
Most PNW Hispanic Heritage Month events are free and open to the public.