PNW's David Feikes receives Christian J. Foster Award
July 6, 2019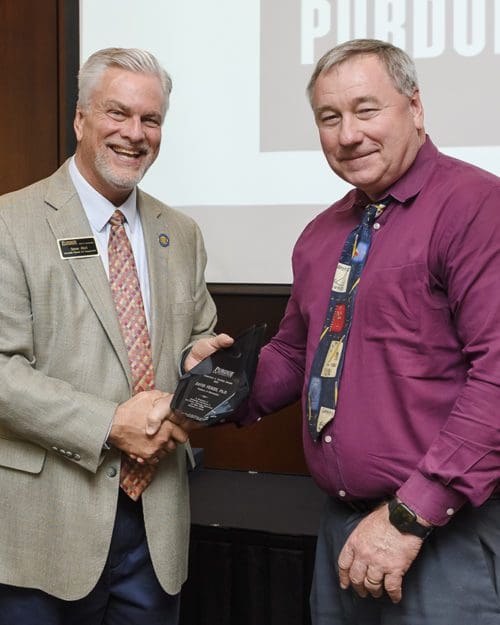 Purdue University Northwest (PNW) Professor of Mathematics David Feikes is the recipient of the 2019 Purdue University Christian J. Foster Award.
The Christian J. Foster Award, named for the former first gentleman of Purdue, annually recognizes one faculty member within the Purdue family who has made demonstrable contributions to improving teaching and learning for K-12 students in science, technology, engineering and math (STEM) education in Indiana.
Feikes, a leader in mathematics education, has been transforming the teaching of mathematics in Indiana, nationally and internationally, for more than 25 years. As a recipient of more than $3,000,000 in grant funding, he has mentored thousands of teachers and served tens of thousands of students to enhance STEM teaching and learning throughout the state.
"The College of Engineering and Sciences is very proud of Dr. David Feikes, this year's recipient of the Christian J. Foster Award," said Associate Dean Daniel Suson. "Dr. Feikes has spent his career working to improve math education in our K-12 schools and this award is recognition of his outstanding achievements in this area."
Feikes' focus on children's mathematical reasoning provides a unique perspective to teachers to understand and incorporate that thinking into their own teaching. He emphasizes the role of student responsibility to validate and justify their own understanding of mathematics. Feikes challenges students and teachers alike with this paradigmatic shift. As a dedicated educator, he passionately advocates for reform.
"Dr. Feikes is the first recipient outside of the West Lafayette campus and exemplifies the high level of commitment to excellence found among our faculty at PNW," said Suson. "We congratulate him on this important award and its recognition of his dedication to improving mathematical competency throughout the state."