PNW Students Power Onward for First Virtual Days of Discovery
May 11, 2020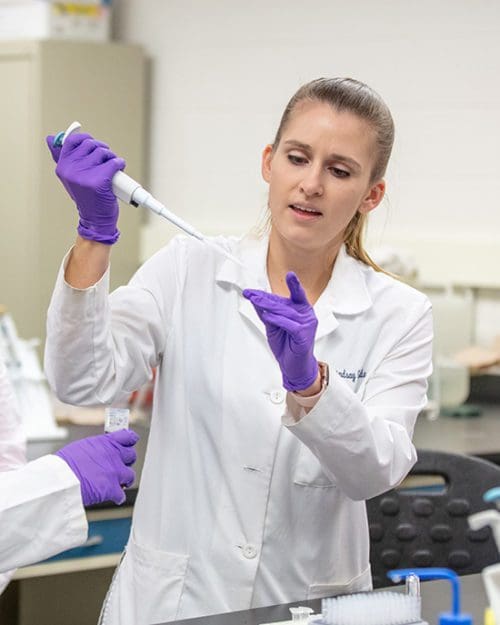 Every year, Purdue Northwest faculty members and students come together to celebrate research, scholarship, and creative activities for PNW's Days of Discovery, and 2020 was no exception.
While the emergence of COVID-19 prevented any in-person gatherings, participants Powered Onward and shifted the entire event online enabling students to share the research they had worked so hard on with faculty and fellow students.
Participant Highlights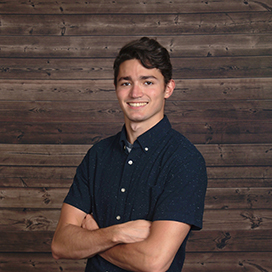 "Antidepressant Drugs Inducing Multiple Antibiotic Resistance in Gram-negative Bacteria"
Adam Rich
Bachelor of Science in Biology, '20
"I have always been fascinated by the human microbiome and its impact on the body. Developing this project was challenging and required me to try things I've never attempted before, which has undoubtedly made me a better student and researcher. I will always consider this research project a highlight of my undergraduate experience at PNW."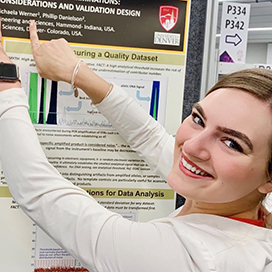 "Implications for Threshold Determinations in Modern DNA Typing: PCR Inhibition in Firearm Investigations"
Michaela Werner
Bachelor of Science in Biology & Physical Science, Concentration: Forensic Science, '21
"This research experience has impacted my education at PNW as it directly relates to my desired career choice and undergraduate studies, though benefits me more as I plan on obtaining my masters and Ph.D. I aim to succeed in becoming a highly credible forensic scientist."
"Identifying the Mechanism of Specificity of Siphoviridae Bacteriophage for S. marcescens strain B3R3"
Amanda Deaner
Bachelor of Science in Psychology, '21
"I consider myself a hands-on learner, and all of the protocols I've performed in the lab have bolstered my understanding of research and the microbial world. This experience has also introduced me to some incredible people, who have become great resources as I work towards applying to medical school. I will be forever grateful to Dr. Gielda and Justin; their patience has made a lasting impact that I will carry with me into my career."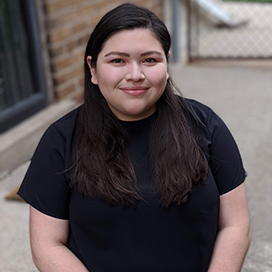 "Microbiological Quality of Commercially Available Queso Fresco Produced in the US"
Catalina Pelaez
Master of Science in Biology, '20
"The research experiment enabled me to use the knowledge that I learned at PNW and use it in a real-life situation. In order to do this research, we had to propose the topic, do background research on the cheese like outbreaks, spoilage organisms, and more. The experiment gave us the opportunity to run our own examination with guidance to ensure that our experiment was successful."
"Intelligent Inflation Prediction System"
Sam Bukowski
Master of Computer Science, '20
"I feel that this research project was the perfect culmination of my education at PNW. It gave me the opportunity to test the knowledge I have gained to learn something new, and then present that information to others so that they might learn something new as well. It was a tremendous experience, and I am grateful I was given the opportunity."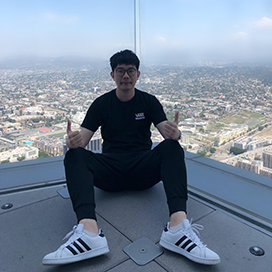 "Intelligent Inflation Prediction System"
Jinlun (Nino) Liu
Master of Computer Science, '20
"I really appreciate this opportunity to show what I have learned. It was an unforgettable experience, and it will motivate me to keep going in the computer realm. CODE IS POETRY."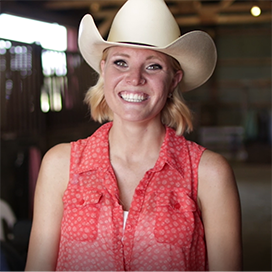 "What's the Dirt?"
Anna Marie Gianni
Master of Communication, '20
"Through the inspiration and guidance of various professors, I recognize what quality education and advice I am receiving. My professors and support team for the research were excited, receptive, and encouraging for my out of the box research. It strengthened my "pride" to be a PNW student."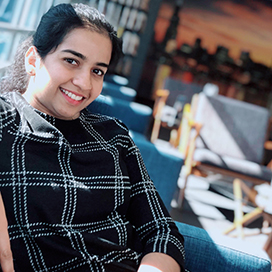 "Intelligent Inflation Prediction System"
Anusree Poduval
Master of Computer Science, '20
"This project helped me apply the skills I learned during my graduate program at PNW. The support we got from our mentor Dr.Ruijian Zhang was very helpful. It provided me with experience that involves co-ordination and teamwork which can help me in my future career."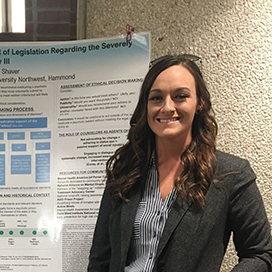 "Exploring Positive Ethics within the Context of Legislation Regarding the Severely Mentally Ill"
Angelicah B. Shaver
Master of Science in Education, Concentration: Mental Health Counseling, '22
"Doing this research has made me a more critical thinker. It also taught me how to approach problems and seek answers from perspectives outside my own. Objective research requires taking yourself out of the equation to critically analyze data without personal bias."
Sharing results is an integral part of the research experience. Two hundred sixty-seven students participated in Days of Discovery, and we are very proud of each of their accomplishments. It's a testament to their perseverance.




Award Winners
Undergraduate Student Poster Presentation Awards
| | Student(s) | Faculty Mentor(s) | title | College |
| --- | --- | --- | --- | --- |
| First Place | Amanda Deaner | Lindsay Gielda | Identifying the Mechanism of Specificity of Siphoviridae Bacteriophage for S. arcescens strain B3R3 | CES |
| Second Place | Adam Rich, Matthew Slana | Lindsay Gielda | Antidepressant Drugs Inducing Multiple Antibiotic Resistance In Gram-negative Bacteria | CES |
| Third Place | Michaela Werner | Christian Westring | Implications for Threshold Determinations in Modern DNA Typing: PCR Inhibition in Firearm Investigations | CES |
Undergraduate Student Oral Presentation Awards
| | Student(s) | Faculty Mentor(s) | title | College |
| --- | --- | --- | --- | --- |
| First Place | Karin Ali, Nicholas Kizman, Adam Binder, Tyberius Torres | Libbie Pelter | Green Chemistry; Synthesis of Catalysts with Earth Abundant Metal | CES |
| Second Place | Alicia Settles | Robert Hallock | How to Train your Goldfish | CHESS |
| Third Place | Siyu Zhao, Hangbing Lin | Chenn Zhou | Design and Optimization of Free-burning Arc in the Electric Arc Furnace | CES |
Graduate Student Poster Presentation Awards
| | Student(s) | Faculty Mentor(s) | title | College |
| --- | --- | --- | --- | --- |
| First Place | Joel Godinez, Congshan Mao | Chenn Zhou  | Numerical Study of Inclusion Removal in Gas Stirred and Electromagnetically Stirred Ladles | CES |
| Second Place | Qingxuan Luo | Chenn Zhou | Numerical Analysis and Modeling of EAF Processes | CES |
| Third Place | Angelicah Shaver | Lisa Hollingsworth | Exploring Positive Ethics Within the Context of Legislation Regarding the Severely Mentally Ill | CHESS |
Graduate Student Oral Presentation Awards
| | Student(s) | Faculty Mentor(s) | title | College |
| --- | --- | --- | --- | --- |
| First Place | Sam Bukowski, Anusree Poduval, Jinlun Liu, Ojevi Dogra, Shubham Tripahi | Ruijian Zhang | Intelligent Inflation Prediction System | CES |
| Second Place | Anna Marie Gianni | Cathy Gillotti | What's the "Dirt": Life and Communication in a Modern Collectivist Farm Culture | CHESS |
| Third Place | Jennifer Lambert, Catalina Pelaez | Wei-tsyi Evert Ting | Microbiological Quality of Commercially Available Queso Fresco Produced in the US | CES |