Purdue Northwest alumna fulfills father's wish to publish children's Christmas book
December 21, 2018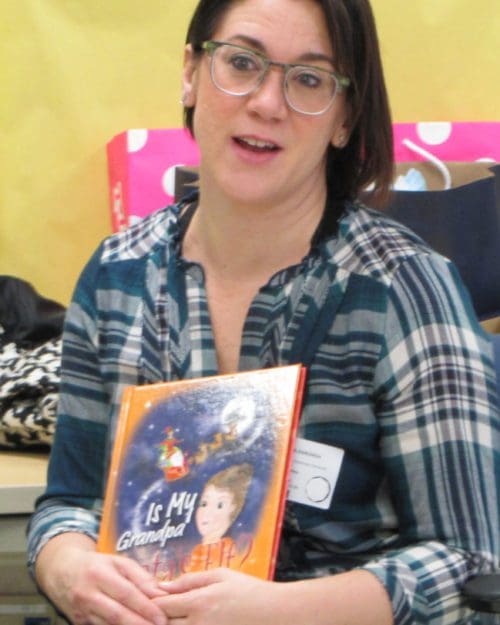 When Heather Zivkovich completed her academic journey at Purdue University Northwest (PNW) 12 years ago, she never could have guessed that someday she would publish a children's Christmas book.
"I took a lot of communications classes and it gave me more confidence in myself. I was a pretty shy student at first," said Zivkovich, who earned a bachelor's degree in Liberal Arts at PNW's Westville Campus.
"I also had professors that gave me confidence in myself," she said, crediting among others her academic advisor, Beth Rudnick.
"Heather was a bright star at Purdue Northwest. It's completely fitting of her nature to finish her dad's book as a tribute to his love," said Rudnick, referring to Zivkovich's book published last November, "Is My Grandpa Santa's Elf?"
The book, though born of tragic circumstances, carries a message of love and kindness related with the spirit of Christmas. The co-author is Bob Morgan, Zivkovich's father, who passed away in April 2017.
Only hours before his death, Morgan shared a secret with his daughter—that for years he had been writing a Christmas book. His last wish was for her to pick up where he left off; a bequest Zivkovich did not take lightly. "It became my mission to finish it," she said.
"I assured him to vnot worry, that I would finish it for him. Six hours later, he peacefully passed away with my mom, siblings, and me by his side," said Zivkovich.
The next day, finding everything on her father's computer, Zivkovich started putting the pieces of the story together. She lovingly mused at her father's writing style, "He liked run-on sentences, so there was a tiny bit of cleaning up to do."
The story is about Kay Rose, a young girl inspired by Zivkovich's niece, and her inquisitiveness into whether her jolly, Christmas-loving grandfather is, indeed, one of Santa Claus' elves.
Mary Jane Eisenhauer, associate professor of Early Childhood Education at Purdue Northwest, said the colorful illustrations take young readers through a magical story capturing the essence of family and the holidays.
"Children will be drawn to the fun storyline and the beautiful artistry. Adults will recognize the importance of tradition and reminders of enduring love," said Eisenhauer.
It's a heartfelt sentiment drawn directly from Zivkovich's connection with her father.
"We'll have this bond forever; our relationship lives on in this book. Long after I'm gone, this book will still be out there bringing families together," said Zivkovich.
"Is My Grandpa Santa's Elf?" is published by Mascot books and available at most retailers, including Amazon. A page of the same title can be found on Facebook.
Zivkovich will have the opportunity to employ her communication skills in an upcoming Christmas Eve appearance on Chicago's WGN Channel 9.