Purdue Northwest Welcomes High Tech Crime Unit Partnership
November 19, 2021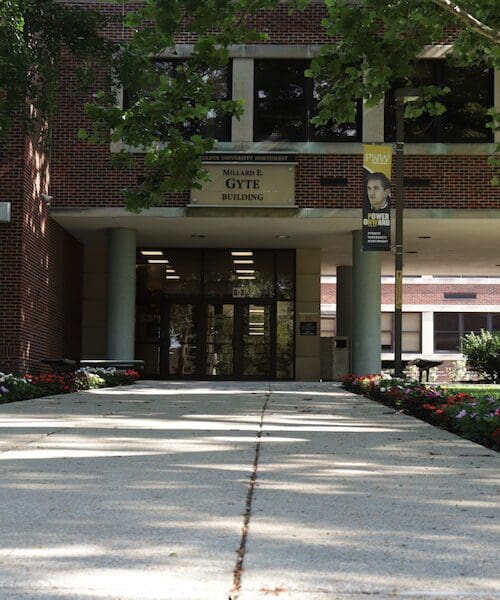 Purdue University Northwest (PNW) is looking forward to new opportunities in education and innovation as the university partners with the Lake County Prosecutor's Office on one of ten newly designated High Tech Crime Units around Indiana.
Approved by the Indiana state legislature in March 2021, and funded by the Indiana Prosecuting Attorneys Council, the hubs will work with prosecutor offices and local law enforcement to process and analyze digital evidence. Each hub will also partner with an academic institution to offer college students real-world experience in helping with criminal cases.
"We are pleased to have partnered with Purdue Northwest on this state-funded High Tech Crime Unit (HCTU) that will assist in investigations involving murder, robbery, drug distribution and other crimes of violence," said Lake County Prosecutor Bernard Carter.  "The HTCU, under the supervision of the prosecutor's office, will be tasked with developing specialized operations and processing digital evidence from computers, cameras, laptops, tablets, cell phones and other electronic devices and will reduce turnaround times in the collection of this type of evidence.  This is a unique opportunity that will change the landscape for how we retrieve and analyze digital evidence."
"Purdue Northwest is particularly pleased that the prosecutor's office was awarded with one of the High Tech Crime Units which will be housed at PNW.  Our forensic lab will be co-located with the High Tech Crime Unit to optimize operations and allow students, faculty, and staff to work closely with them, said Purdue Northwest Chancellor Thomas Keon.
The unit, expected to be housed in PNW's Gyte Building on the Hammond campus, will work with law enforcement operations in Lake and Porter counties. The unit is also expected to be near the Center for Crime and Forensics in Gyte, which has been on campus for three years.
"We at PNW are particularly excited to partner with the prosecutors and law enforcement," Christian Westring, professor and director of the Center for Crime and Forensics, said. "This will bring academic and research opportunities to students and provide industry partners to work with locally. A vital component of what we do is community engagement. This allows for researchers and professors to partner with prosecutors and forensic scientists in a collaborative manner with a joint space.
"From a laboratory standpoint, PNW brings a wealth of experience. We understand the rigors of accreditation and what it means to be an accredited lab. We have a direct conduit to staff places like this."
The grants will supply units with state-of-the-art technology to process digital evidence for analyzing and prosecuting crime committed with or captured by digital technology.
"Digital crime is a lot of different things: financial transactions, security camera theft, cell phone tracing and cracking — anything that has a digital signature on it," Westring said. "There's probably no field more rapidly advancing than digital forensics because of how new technologies are being added into our daily lives. That's an area where we have unique skillsets with our forensic ability. Coupled with this unit, it does really create this community engagement feel."
Brian Miller, director of public safety at PNW, also is looking forward to PNW's expanding partnership with local law enforcement.
"This is a great opportunity for law enforcement in Northwest Indiana," Miller says. "Cell phones have changed the investigative dynamics of criminal cases for both the defense and prosecution. Phones can refute witness statements. Downloads of internet searches can provide a motive and can provide definitive evidence of a subject's location during a crime. To have a Lake County Prosecutor and PNW-sponsored lab will greatly assist local, state and federal law enforcement in their investigation of crimes."