Purdue University Northwest breaks ground on new Bioscience Innovation Building
August 23, 2018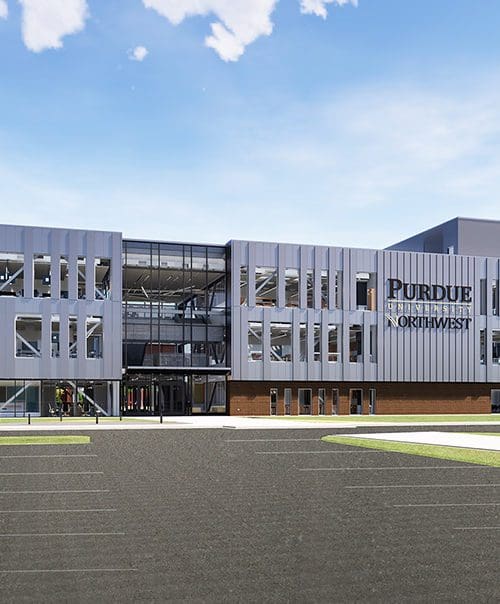 HAMMOND, Ind. — With a dig of 12 ceremonial shovels, Purdue University Northwest (PNW) officially broke ground on its $40 million Bioscience Innovation Building Thursday (Aug. 23). University officials, along with local and state representatives, celebrated the monumental moment with students, faculty and staff as the fall semester began this week.
State Rep. Hal Slager (R-Schererville), who made education one of his priorities since elected to the Indiana General Assembly in 2012, was one of the guest speakers. Slager championed the project at the statehouse, marshalling support of other lawmakers that eventually led to an appropriation of $35 million in state funds, making the building a reality.
"This institution, this campus, has become an anchor for northwest Indiana," said Slager. "Our campaign to educate my colleagues in the legislature was not only that Purdue Northwest was an anchor institution, but truly a gateway to northwest Indiana."
"What we are witnessing today is a transformational project for not only this campus, but all of northwest Indiana," said Slager.
The 68,000 square foot, state-of-the-art facility will house Purdue Northwest's College of Nursing and the Biological Sciences department, which is within the College of Engineering and Sciences. The melding of students and faculty from both disciplines was deliberate; designed to encourage collaborative cutting-edge research and advanced STEM educational opportunities across a broad range of areas in the growing healthcare and bioscience industries.
"Health care is the number two economic driver in northwest Indiana," said Chancellor Thomas L. Keon. "There are many opportunities for Purdue Northwest to impact our students and faculty with this new building, and that flows over to all of northwest Indiana. We are truly grateful for the tremendous support for this project from our legislative delegation, donors and alumni, as well as faculty and staff."
Senior Tiffany Coffey recognizes what the facility will mean to future PNW nursing students. Coffey, who graduates this December and plans to work in pediatric nursing, said nursing students currently utilize space in different buildings across campus. "With the new building, it will be really great to have a place we can claim as our own for nursing," she said.
Coffey's sentiment was echoed by Dean Lisa Hopp, whose College of Nursing just earned a second consecutive "Center of Excellence" recognition from the National League for Nursing.
"This will advance clinical simulation and lab space for our continually expanding program," said Hopp. "We also were really focused on the vibrancy of our community initiatives, keeping our partners in mind when planning the space."
A biologist himself, College of Engineering and Sciences Dean Kenneth (Chris) Holford said the Bioscience Innovation Building will enhance research and teaching in the high-demand, high-paying bioscience sector.
"Included is an upgrade of our instrumentation to give our students and faculty researchers access to the latest technology, putting them on the forefront of fast evolving fields like microbiology, biotechnology and cellular physiology," said Holford.
Pre-veterinary studies honors student, and goalkeeper for PNW's women's soccer team, Kelley Sharp credits the smaller class sizes and opportunities for student research at Purdue Northwest in preparing her well for her dream of becoming a zoo veterinarian.
"The Bioscience Innovation Building will benefit students with updated lab equipment and provide them the opportunity to get involved in research allowing them to make a difference in a field they are truly passionate about," said Sharp.
Construction of the building on the Hammond Campus began in July and is expected to finish by spring 2020.