Purdue University Northwest celebrates and supports veterans
November 12, 2018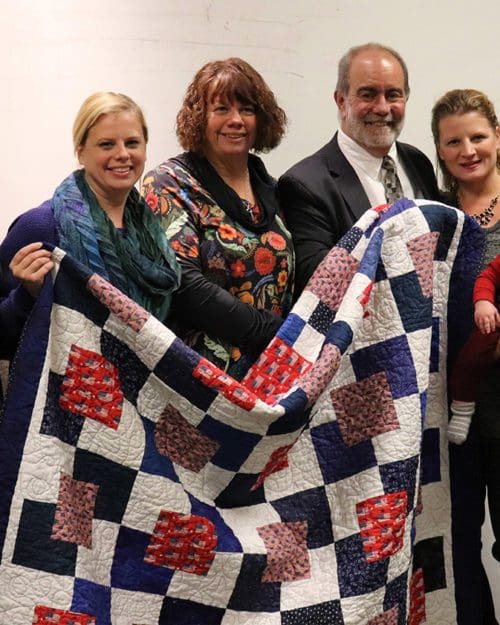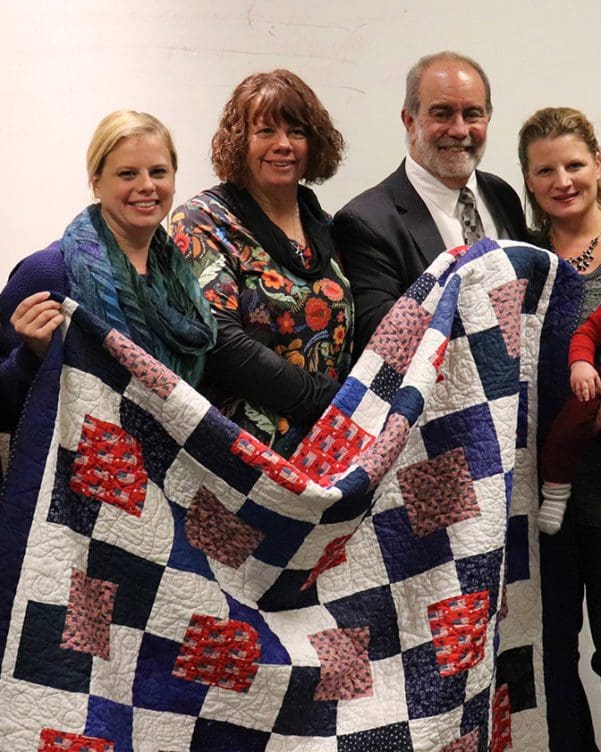 Purdue University Northwest (PNW) hosted its first veterans ball honoring active and former military students, faculty and staff Friday night, Nov. 9, at the Bass Pro Shop in Portage, Indiana. The event, which hosted more than 40 veterans, featured an empty table ceremony—a tribute to fallen and missing soldiers—and a Quilts of Valor recognition.
Transitioning to college can be difficult for some veterans, as PNW Veterans Services Coordinator Anthony Pilota understands. A former sergeant in the Marine Corps 2nd Tank Battalion, Delta Company, Pilota served as a battle tank mechanic and completed a tour of duty in Afghanistan in 2013.
"When you leave the military, in many ways you lose your support system," said Pilota. "You go from a set routine every day to being on your own in a new experience."
The camaraderie and personal ties military personnel develop with one another is often left behind as well. Pilota describes it as akin to losing a family because of how closely soldiers often work and the bonds that are formed in sometimes extraordinary conditions.
Pilota, who started at Purdue Northwest last September, found his passion for serving degree-seeking veterans out of his own experience. After his discharge, Pilota attended Southern Illinois University.
"The challenge for me was finding that community of veterans to count on for support and encouragement. That's my mission here at Purdue Northwest, to build that community for our veteran students," said Pilota.
Purdue University Northwest currently serves 264 students who are either veterans or active service members. Along with priority registration, fee deferment, and assistance with VA certification, the Office of Veteran Services at Purdue Northwest helps these students transition to college and successfully earn their degrees, even providing support and guidance for students during military deployments.
Joel Soto, a 13-year Army veteran who was twice deployed to Afghanistan, said the support he received from veteran services helped him stay focused during a challenging first year.
"The veteran services office was the whole reason I chose Purdue Northwest," said Soto. "They helped me get through the difficult times adjusting."
Now a senior in PNW's nationally-accredited College of Business, Soto plans to pursue a master's degree after graduating this May. He hopes for a career as an entrepreneur and investor.
As PNW becomes known among military personnel, Pilota strives to serve more veterans in the future. Purdue University Northwest is one of only four public universities in Indiana—and the only institution in the northwest region—to earn the 2018 Military Friendly® Schools designation (militaryfriendly.com). The list honors the nation's top schools that welcome America's military service members, veterans and spouses as students and ensure their success on campus.
Pilota has parlayed the recognition into further integrating veteran services across PNW's campuses in Westville and Hammond, and in community-building events. According to Soto, the veterans ball was a great start since all branches of the military host similar events.
"Having the ball is a big sign that the program is on the upswing," said Soto. "Since Anthony has come in, he's really listened to the veterans and has done all the things he said he was going to do or made attempts to."
Soto said students were also looking forward to a meal voucher program to help feed a veteran in need this fall, and helping to establish a Student Veterans of America chapter at Purdue Northwest.
Creating a community among veterans isn't limited to students. Pilota feels much is gained by including veterans among Purdue Northwest's faculty and staff. Friday's event also recognized the military service of Anthony (Tony) Sindone, clinical assistant professor of finance and economic development at PNW.
Sindone received a Quilts of Valor from the Purdue University Northwest Women's Association for his service in the Air Force, which began in 1973. His service included deployments on several temporary missions, including the Jonestown recovery in Guyana and an airlift in Zaire, as well as taking part in several Cold War military exercises.
Humbled by the recognition, Sindone said the real honor goes to those who have sacrificed a whole lot more.
"While I'm honored to accept this quilt, with love and honor, I'm accepting this on behalf of those who cannot be with us today," said Sindone.