Second Season of TimberNook Northwest Indiana Coming to Gabis Arboretum
January 19, 2022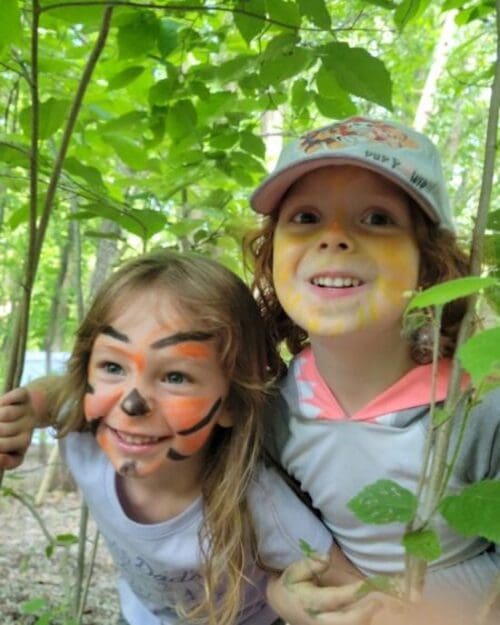 TimberNook Northwest Indiana, owned by pediatric occupational therapist Erin Crews, is preparing for its second season in Northwest Indiana. Last year's summer camps were a hit! Children built forts and towns, climbed trees, made their own tire swings, "fished" in the creek, developed their own systems of government and kingdoms, searched for hidden treasure, made new friends, used a giant soapy slip and slide and so much more. This year plans to be just as exciting with tiny villages, The Wizard of Oz, living out classic children's stories, large scale sensory exploration, and adventures as Castaways.
Last year's camps sold out, with waiting lists for several programs. This year, more spots are being made available and registration opens on February 1 for all summer camps. Spring registration for Tiny Ones programs, ages walking-5 and their accompanying adult, are already open and spots are filling up. This year we are also having our first field trips for home-school programs.
Crews opened this program in Northwest Indiana because "I saw the pressure that many children are under these days, particularly while participating in structured activities such as school and sports. Children need movement and freedom to explore their own creativity, interests, and abilities. We offer this and more while maintaining close proximity to observe and ensure safe practices during play. We selected the Gabis Arboretum at Purdue Northwest for our location due to its beautiful natural setting and shared goals of promoting a love of nature and healthy child development through play".
Program Scheduling
Tiny Ones morning programs will occur on the following days:
April 29, May 6, May 13 and May 20
9:30 a.m. to 11:30 a.m.
Babies in arms and adult attendees are free. Toddlers ages 5 and 6 are $15 per child.
TimberNook summer camps will occur during the following weeks:
May 30- June 3: Castaways, Ages: 7-12, weekly fee $325
June 13-17: Barefoot and Buckets, Ages: 4-7, weekly fee $220
June 27-July 1: Sensory Adventures, Ages: 7-12, weekly fee $325
July 11-15: Enchanted, Ages: 5-9, weekly fee $220
July 25-29: Storybook, Ages: 4-7, weekly fee $220
Registration opens on February 1. Registration and more information can be found here.