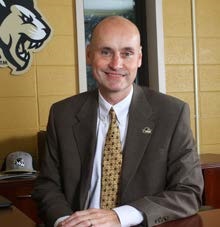 Big Step Into NCAA
Taking a Big Step Into NCAA Division II
January 28, 2020
In a candid question and answer session, PNW Director of Athletics Rick Costello shares his insight on the accomplishments and progress of the Pride.
Why is moving into the NCAA Division II an important step for PNW?
The guiding principle behind Purdue Northwest's participation in intercollegiate athletics is our belief in its educational value for our students. We look to advance learning, develop leadership skills, foster personal growth and play an important role in creating a sense of community.
PNW has aligned with the NCAA because we believe participation will allow us to excel in those values. The NCAA is a highly recognized national brand that parallels the values we hold at PNW.
NCAA Division II is comprised of more than 300 institutions that emphasize "life in balance." This concept provides student-athletes with the opportunity to excel in the classroom and fully engage in the broader campus experience.
What are the biggest challenges for PNW student-athletes this year?
The PNW Pride is facing a challenging transition moving into NCAA Division II. This is a higher level of athletics competition. I expect that over time the Pride will successfully transition through exceptional coaching, student-athlete development, outstanding recruiting, resiliency, hard work, and – most of all – contagious enthusiasm.
As you look to the future, what are your expectations for PNW Athletics?
I believe the Pride will continue to be outstanding students in the classroom. We will start to compete in GLIAC and NCAA championships, impact the local community through engagement and service, and create spirit, pride, and excitement in Northwest Indiana and beyond.
Can you highlight any accomplishments the Athletics Department has achieved through your tenure at PNW?
Since I began working at PNW, I have been fortunate to encounter so many talented and dedicated student-athletes, coaches, staff and faculty. The support by Chancellor Keon and the senior leadership team has been amazing! Through an unbeatable combination of student and administrative support, the Pride have achieved quite a few noteworthy accomplishments including:
Academic excellence resulting in numerous Scholar Team, Scholar-Athlete and Academic League selections.
The first seven CoSIDA Academic All-Americans in program history.
Elevation of the athletics program to NCAA membership. The expansion of our sports program to include baseball, softball and women's golf resulting in the highest student-athlete participation in the history of PNW.
Athletic excellence resulting in national postseason qualifiers in women's basketball, men's and women's cross country, and men's soccer.
Community engagement with student-athletes volunteering at the PNW Fall Sports Festival, PNW Kids Day, the Hammond Holiday Parade, Make-A-Wish Foundation, Special Olympics, and the R-Dub Reading and Writing programs in local schools.
Partnership with the City of Hammond to develop Dowling Park, PNW's home for baseball, soccer, softball and tennis.
Opening of the H.D. Kesling Gymnasium at the Dworkin Student Services & Activities Complex as the newest home of our women's volleyball and women's and men's basketball teams.
Development of the Paul K. and Barbara Graegin Academic Excellence Center and the Community Hospital Athletic Training and Physical Therapy Center.
Purdue Northwest Athletes Named 2016-17 CoSIDA Academic All-Americans:
The College Sports Information Directors of America (CoSIDA) began the distinguished Academic All-America program in 1952, and since then, has honored thousands of deserving student-athletes from numerous sports across all divisions.
Student-athletes who meet the criteria – must be at least a sophomore academically, must be at their respective institutions for a minimum of one year, must carry a minimum 3.30 grade point average and must be a starter or important reserve – are nominated by and then voted upon by CoSIDA members.
In 2016-17, PNW had three student-athletes – Sergio Reyes, Cassidy Deno, and Patrick Mudd – named the fifth, sixth, and seventh CoSIDA Academic All-Americans in PNW history.