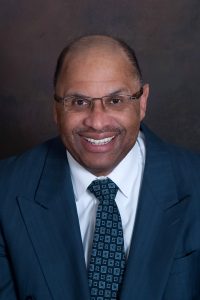 From Basketball Court to Boardroom
'74 alumnus Napoleon Brandford III learned lessons of financial success
January 27, 2020
By Wes Lukoshus, Assistant Vice Chancellor, Media Relations and Communications at Purdue Northwest
Long before he became a successful financier and founding partner of the only small investment banking company to be ranked among Wall Street's top 10 firms in 2010, "All I wanted to do in high school was play ball."
That's what Napoleon Brandford III told Purdue Northwest students as the featured presenter of PNW's premiere Success Forum, sponsored by the College of Business, last fall.
And the 64-year-old East Chicago native was pretty, darn good at playing ball, too! After helping his Roosevelt High School basketball team to the 1970 Indiana state championship, he set freshman records at the University of Nevada. "I thought I was headed to the NBA," he said.
Change of plans
But a torn Achilles tendon his sophomore season and conversations with friend Alex Boyd, whose Nevada records Brandford broke, convinced him to rethink his future and get serious about his education.
Brandford returned to Northwest Indiana in 1972, enrolled at the former Purdue University Calumet as a political science major, graduated in 1974, then moved to Florida where he landed a job in the Dade County finance department.
"I had a good experience at Purdue Calumet; what I liked most was the quality of the subject matter and the teaching," Brandford said, recalling such professors as Doris Pierce and Manfred Grote among those who helped mold his critical thinking skills.
Political science lessons pay off
The political science lessons he grasped at Purdue Calumet also helped open his eyes to more lucrative career opportunities.
"My education gave me a good understanding of government," he said. "Then I found out about municipal bonds and decided 'that's what I want to do'."
"My education gave me a good understanding of government."
Lucrative projects
Through his experiences in municipal bond investment, he engaged in lucrative projects that produced professional sports stadiums, airports and high rise buildings.
After moving into investment banking, he became vice president of finance for Shearson Lehman Brothers Inc. in 1982. Three years later, he helped form highly respected Grigsby Brandford & Co. He went on to become the youngest named partner on Wall Street with Siebert Brandford Shank, the firm ranked among Wall Street's top 10 in 2010.