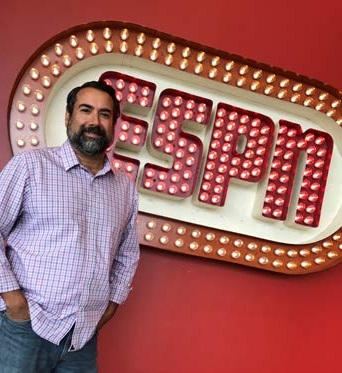 Mathematics and Sports Network Television
Mathematics and Sports Network Television Add Up to Achievement
January 28, 2020
ESPN Executive Krish Dasgupta attributes his success to his PNW experience.
The Highland, Ind. native began his college career at Purdue West Lafayette and picked up extra courses at the Purdue Northwest Hammond campus while home for the summer. He soon realized he preferred the atmosphere of the Hammond campus — smaller class sizes, personalized attention from instructors and strong support networks by fellow students — which was very different than his experience at the larger institution.
"You didn't feel like you were just another kid on campus," Dasgupta says appreciatively of the strong support networks he encountered at PNW. Knowing that his instructors and fellow students were there for him when he needed assistance with his studies drew him to complete his degree at the Hammond campus.
To current and future students alike, he says reflectively, "Try to absorb the atmosphere and allow it to turn you into an adult. Remember that Purdue Northwest is a launching pad to your future."
More than understanding…doing.
When Dasgupta decided to stay at PNW full time, he swiftly changed his major from engineering to mathematics. He attributed this decision to his mathematics instructors, saying, "They woke me up!" Through their teaching methods, he found math to be an intriguing puzzle that needed to be solved. It was an added perk that the degree was flexible and allowed for a variety of possible career outcomes.
Upon graduation from PNW in 1994, his mathematics degree allowed him to experience a variety of jobs across the country. He catapulted from coding dynamic websites in Chicagoland to developing mobile productsin Seattle. Now, two decades later, he is the vice president of Advanced Development at ESPN in Bristol, Conn. where he leads a team to implement sports content through new technology mediums.
"I was always a big nut around sports statistics," Dasgupta explained as to why he was drawn to work for the leading multinational, multimedia sports entertainment company. Being able to utilize his learned experiences in this leadership position at ESPN is "the best of both worlds," he noted.
"Having the ability to take your education seriously and to accomplish it in a friendly, open, supportive environment makes all the difference. Going to Purdue Northwest was the best decision I ever made."
Giving back to PNW
Well aware that his educational institution is a fundamental reason for his success, Dasgupta urges the alumni community to join him in supporting the university. "Purdue Northwest is such a strong and important part of the region. It deserves all of the support and attention you can afford," Dasgupta says.
Dasgupta continues to support the university as a Chancellor's Circle member.
Giving a yearly $1,000 or more donation to the university distinguishes the donor as a member of the Chancellor's Circle. These gifts make an enormous difference to Purdue Northwest by supporting student scholarships, faculty, programs, strategic funds, athletics, and more.
To find out how you can join Krish Dasgupta in giving back to PNW and make an impact to future students, visit our giving website.