The Leadership Institute at Purdue Northwest announces Spring 2023 LEAD Academy participants
May 2, 2023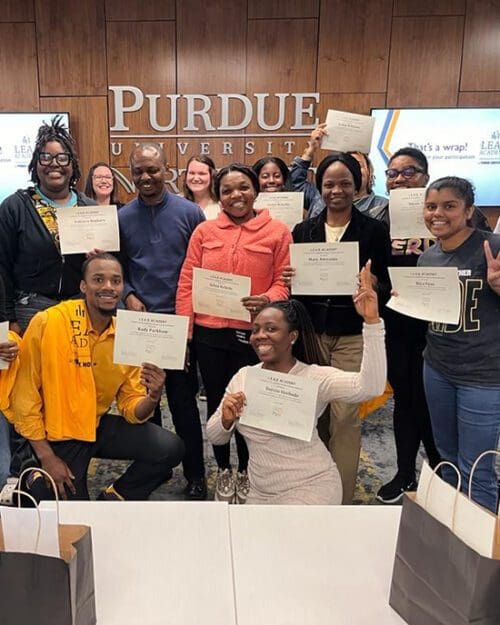 The Leadership Institute at Purdue Northwest has announced the Spring 2023 LEAD Academy participants.
The LEAD Academy program brought together 48 dedicated student leaders to complete four weeks of leadership development training. All student participants successfully earned a certificate of completion from the Leadership Institute.
"I really love what we do," said Mekisha Richardson, assistant director of the Leadership Institute at Purdue Northwest. "We are so proud to see this group of college student leaders receive recognition for their leadership roles on campus and look forward to seeing each of these amazing leaders excel at PNW and beyond!"
Students who completed the Spring 2023 LEAD Academy include:
Gian Abangan
Mary Adeyanju
Abdulrahman Alhazmi
Miles Barnes
Charlene Benoit
Dee Boozer
Noah Brown
Kailey Callander
Isabella Diaz
Jasmine Diaz
Eve Dobrzeniecki
Lillian Ehlers
Savanah Fisher
Grace Goodlander
Valencia Hepburn
Nicholas Herrera
Andrew Huske
Ifeyinwa Ihemegbulem
Katelyn Kazakevicius
Sylvia Kelechi
Gabrielle Kniola
Joseph Krueger
Anhviet Le
Donn Lobres
Auzgul Mahmood
Clare Marcotte
Amanda McDonald
Jaelyn McDuffie
Hunter Middleton
Eliana Munoz
Dorcas Oyebode
Onuoha Ozeh
Kody Parkham
Samantha Pezan
Mason Ploszay
Matthew Rivero
Crystal Sobus
Langston Stalling
Kenneth Stone
Nicole Thomas
Viridiana Tirado
Emma Turner
Cassie Vickers
Alexander Vrbanoff
Peyton Westphal
Alexis Whitehead
Kelley Williams
More information about the Leadership Institute can be found online or by email at leadershipinstitute@pnw.edu.