Vaccine Incentive Winner: Colleen Robison
October 27, 2021
We're talking to winners from PNW's Vaccine Incentive Program to learn more about what prompted them to get vaccinated!
Today, meet Colleen Robison, the Associate Director of Benefits for Human Resources. She earned a bachelor's degree in Management from Purdue West Lafayette and a master's degree in Education from the Purdue Northwest Hammond campus.  She has worked at the university for almost 28 years.
Why did you choose to get vaccinated against COVID-19 when you were eligible?
I actually didn't get vaccinated when I became eligible.  I waited several months.  I was afraid because of all the horror stories I was hearing.  But then after giving myself enough time to feel comfortable with the decision, I went ahead and did it.  I chose to get vaccinated because I had COVID once in early 2021 and it was not a very pleasant experience.  I was lucky – I had a mild case.  I didn't want to get it again and be one of the unfortunate ones to end up with a serious case.
What would you say to your peers to encourage them to get vaccinated?
I know lots of people that are reluctant because they are afraid.  I get it, I was too.  After the first shot my arm was sore and that was about it.  After the second shot my arm was sore and I was very tired the next day. That was it. Today I am relieved.
What benefit is there to being a vaccinated student body?
I am neither pro nor con-vaccine.  I think everyone should make their own choice.  The benefits to having vaccinated faculty and staff (and students) on campus is that maybe the spread will slow. Maybe we can relax the mask guidelines too.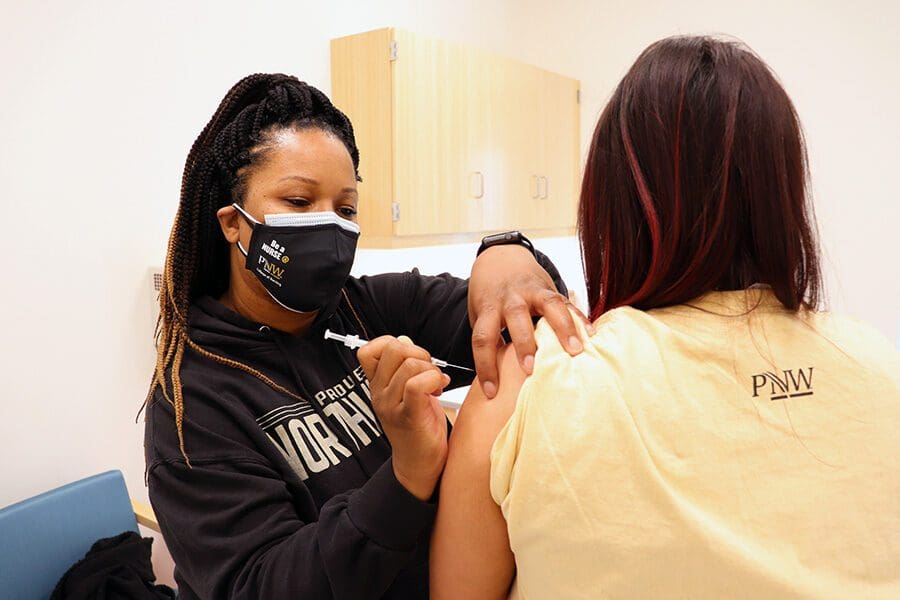 Vaccine Incentive Program
The single best way to protect you and your family from COVID-19 is by getting vaccinated. PNW students who choose to get vaccinated against COVID-19 can enter drawings for prizes including a $2,000 tuition credit!