Your Exclusive Food Service Partner at the PNW Westville Campus
August 9, 2023
PNW Faculty and Staff:
Do you have a meeting or event to plan on the Westville Campus?
Let us take a big task off your plate and replace it with something delicious!
As the new semester kicks off, we wanted to take a moment to remind you that The Great Hall at PNW is here to fulfill all of your catering and banquet event needs throughout the entire Westville campus! As the exclusive food service provider, we are dedicated to making your events truly memorable with delicious food and caring service.
Whether you're planning a staff meeting, a faculty luncheon, a student event, a pop-up food give-a-way, or a grand celebration, our team at The Great Hall is here to make your vision come to life. As an internal department of Purdue Northwest, we are especially excited to collaborate with you to create memorable experiences that leave a lasting impression on our Purdue Northwest community and supporters.
To get the process started place your catering or banquet event order inquiry, simply fill out our convenient online form.
With this information, we can begin to create your event details, including answering any questions you have and scheduling your event.
While we encourage you to plan ahead, we understand that sometimes last-minute events arise. Please note that requests made within 14 days of your event might limit the menu options available. Additionally, orders placed within 10 days of the event will incur an additional fee to accommodate off-cycle delivery or offsite pick-up.
The success of PNW is our priority, and we're excited to work closely with you to help you achieve your common goal. Please do not hesitate to reach out if you have any questions, need assistance, or are ready to discuss your upcoming event. Our team at The Great Hall is thrilled to serve you! While we encourage you to use our event planning form at pnw.edu/thegreathall, general inquires can be made to events@pnw.edu.
Thank you for supporting us as your Westville catering partner. We look forward to being a part of your successful events and meetings.
Warm regards,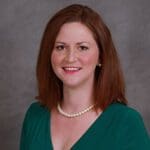 Ashley Gerodimos, MBA 
Executive Director of Events Management