2020 Innovators Awards Inductee Profile: Matt Hanson
February 5, 2021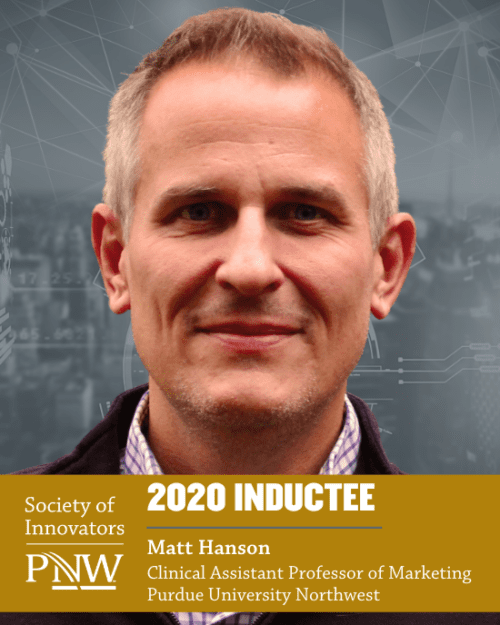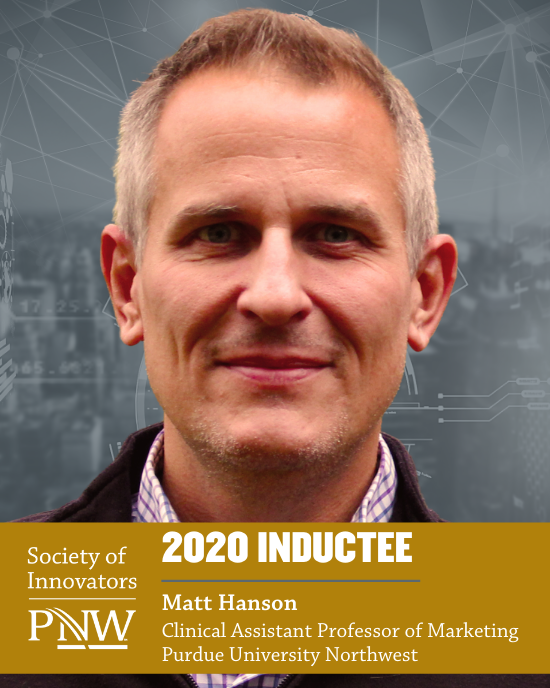 Over the years, Matt Hanson has always found innovative ways to challenge his students to learn and experience more to make them ready for life after college. Often student education does not find real world experiences to help them be prepared. In the summer of 2019, he created the Digital Marketing Competition (DMC) to help students compete and prepare a real-world applicable marketing campaign for a company actively looking to improve their digital market.
Over 80 student teams participated in the 2019 competition. Matt worked directly with the competition's initial client, Harbour Trust, creating an event website, case study, and helping students begin creating their submissions and their marketing campaign.
The Digital Marketing Competition pulls students out of the textbook and puts them into real situations, almost acting like a real digital marketing agency for the client. Not only do students benefit, but other universities and marketing programs benefit by knowing their students have a way to practice their skills before launching their careers.
Participating students leave the competition knowing how to take a client from start to finish creating a campaign and executing it in its entirety. Before Matt created this competition, nothing like it existed to help students learn at the pace the real world moves.
In two short years, the DMC has become an international competition for college students. Matt has attracted the attention of Facebook, Google, and other large corporations to partner with him and the college on the competition. It has placed the marketing program at Purdue Northwest on the map for a place to learn and partner directly with businesses.
What does it mean to you to have your work recognized by the Society of Innovators?
What I love about this is the flexibility Purdue Northwest has allowed me. We went out there and looked, and we saw a real need. We talked to countless professors and companies across the nation. They all want to be part of it in some way, shape or form. From the standpoint of PNW, they just allow us to do great things. What I've loved about working here is the ability to create and innovate and do different things.
What is something you wish more people knew about Northwest Indiana?
The talent here is just amazing. There is a lot of drive in the students that I have. We have countless students that have worked on different campaigns for major fortune 500 clients or started new businesses that are succeeding. It's amazing what they can do if given the right opportunity.
What does innovation mean to you?
Innovation to me is always looking forward, especially in digital marketing. Digital marketing just evolves constantly, it never stops. If you sit there and you let it stop, you never evolve yourself and become the dinosaur pretty quick. I'm always telling students to innovate, change, just take yourself to that next level, and always challenge yourself. Because if you're not challenging yourself, you're not learning.
Are there any skills you believe are essential for students to develop?
I had a student ask me this the other day. "When I leave school, what is the number one thing they're going to look for?" He asked me about GPA, and a couple of other things. I said, "I'm going to tell you exactly what they're going to look for. Can you take a problem, and can you solve it?"
That is all it comes down to. Nobody wants to sit and hold your hand for six months while you learn the job. They want you to come in, use those problem-solving skills, and try and figure it out on your own. If you can do that, if you can take a problem and start to dissect it, and figure out a solution, you can get a job anywhere you want. It doesn't matter what field you go into. Most people run away from that task.
Rather than try to solve everything all at once, I try to teach my students to pick it apart and find little wins along the way. Ask a question, find a small answer, which should lead to another question, and another. It doesn't matter if you're a marketing professional, an entrepreneur, or anything else. It's start with a small problem, solve it, and every day, if you continue to do that, you're going to move forward. If you try to solve the world's problems all in one sitting, you're never going to get anywhere.
What are you excited about in 2021?
Reconnecting in person.
What new technology(s) are you paying attention to right now?
I am focused on any technology that automates repetitive tasks. Calendly to Zoom to my email is a simple tool, but has saved me hours.
What is something new you have learned during this period of COVID-19?
To take breaks. Staring at a screen and listening to computer audio gives me headaches. I have learned to work 50 and walk away for ten. I come back slightly refreshed and can get more done in a shorter time.
How do you recharge?
When it was warmer, I was walking five miles and listening to audio books. Sadly, I hate the cold, so the walking is now on hold. I haven't given up on the books.
Six quick questions
Coffee or tea? Coffee until it runs out, then tea
Reading: print or digital? Digital at 2x speed
Books: Fiction or nonfiction? Nonfiction
Winter or summer? Summer
Snacks: sweet or savory? Sweet
Zoom: wave at the end of a meeting or not? That's a lot of waving. No waving, I'm already late for the next meeting.
Matt Hanson, Clinical Assistant Professor of Marketing at Purdue University Northwest, was a 2020 individual inductee into the Society of Innovators at Purdue Northwest. A full list of 2020 inductees can be found here.