2021 Society of Innovators Inductee Profile: Andrew Cleland
December 16, 2021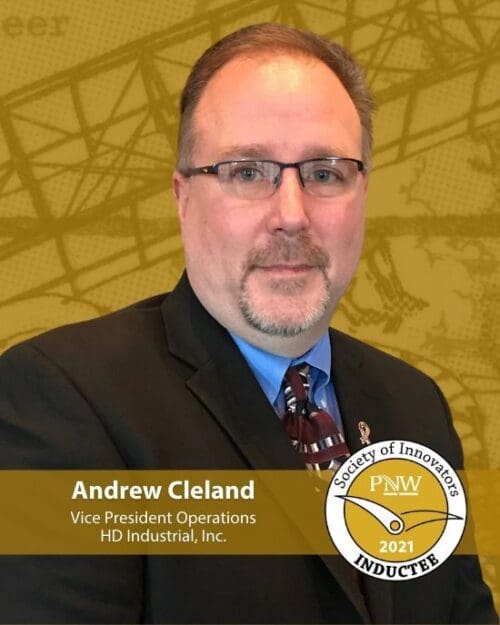 Andrew Cleland has been a member of the HD family since April of 2018, when he was brought onboard as Vice President of Operations. His passion for design, fabrication, and thinking outside the box was a welcome addition to their team and lead to the invention of the UV air filtration systems that OptiAir-UV is built on.
A lifelong resident of Lake County, he graduated from Munster High School in 1986 and married his wife Deanna in 1991. Together they have two adult daughters, Lauren and Megan. Andy has over forty years' experience in the HVAC field. He became a member of the Sheet Metal Workers Union in 1995 and remains with the Local 20 to this day. He has received many certifications along the way and completed his Associates Degree at Ivy Tech in 2001.
In his rare moments of free time, he enjoys fishing, golfing, and most activities that can be enjoyed with a cold beer.
Innovation: OptiAir-UV
Opti-Air UV self-contained commercial air filtration solutions provide clean air by continuously pulling contaminated air through multiple stages of micro-glass filters. Combined with a patented UV system, Opti-Air products provide the most efficient and most effective filtration system on the market.
How was your innovation developed?
Opti-Air UV was developed in response to COVID-19. During March 2020, we were contacted by one of the world's largest meat packing companies. They needed us to develop a system that could actually help sanitize and purify the air for certain room sizes, across different departments throughout the plant. We created new germicidal UV filtration equipment for them.
We had implemented air purification systems for the HVAC industry in the past, but developing this new equipment was something created during the pandemic.
The plant gave us a seven-day window from the time we were asked to come out, and there were three different room sizes to create air changes in. Our team went back to the drawing board, looked at what airflow rates we could put through a piece of equipment with filtration, and use the correct level of UV. Our first prototype was developed in those seven days. Within that first week, we successfully brought air levels down to less than a hundred parts per million of bacteria in a given room or space.
We are now already developing generation four of the equipment and have actually developed several different types for different industries. For example, in the food industry we have a complete sanitation unit that can go up to 5500 CFM systems all the way down to 1000 CFM systems. Not all of the systems are filtered. Some of them actually just pass through UV filtration sanitation while others are based on different levels of filtration.
From these initial developments, we are still expanding. Now we're going into research and development in all different types of sanitation and UV, not only for air filtration, but also for water filtration.
How does the OptiAir-UV system combat something like COVID-19?
We created a flow through device. There are two levels of filtration that go through the unit with a germicidal UV that is actually built in. When air in a room flows through the system, it is able to separate the bacteria and then put it in front of the UV light to kill it.
What does it mean to you to be recognized by the Society of Innovators?
I was very shocked, but very gratified to see that there are groups out there that look at what we're doing. I am glad that Northwest Indiana has this kind of program.
What is something you wish more people knew about Northwest Indiana?
This region has been my home for 54 years. I love it and want people to know there is just so much to do in this area. It is actually a developing area. Just look at what's going on here, from the wind energy, the solar energy, and everything that is moving throughout this entire region. It is just booming. This entire area is changing from the old and moving to different technologies creating power, heat, and steam.
What advice you would give our younger generation that is still in school?
You have to get out there and look at the trades. There is lot that industry has to offer. Every day is a new development and new challenges. I'm glad to see that the companies and people moving into this area are bringing a lot more technology and ideas into our region. They're moving here from Chicagoland, from the southern states, from all over the state of Indiana. Northwest Indiana is really growing based on what we see now.
How did you get to where you are in your career at this point?
I've been in the Local Sheet Metal Workers for 25 years. Before that I was in it for 10 years as a different contractor. I've been doing this for years and love the every day challenges, of actually coming up with problem-solving. We don't just do it in airflow, we're solving problems in all kinds of mechanical devices, so we try to stay with the innovative and the technology side. The entire trade that I'm in has changed from the old hand layout to all-automated designs, laser cutting, and forming and bending through CNC technology.
What does innovation mean to you?
Innovation to me is developing something better or to actually better ourselves. It is coming up with a better way of doing things more economically.
Andrew Cleland, vice president operations at HD Industrial, Inc., was a 2021 individual inductee into the Society of Innovators at Purdue Northwest. A full list of 2021 inductees can be found here.