2021 Society of Innovators Inductee Profile: McKenya Dilworth
December 6, 2021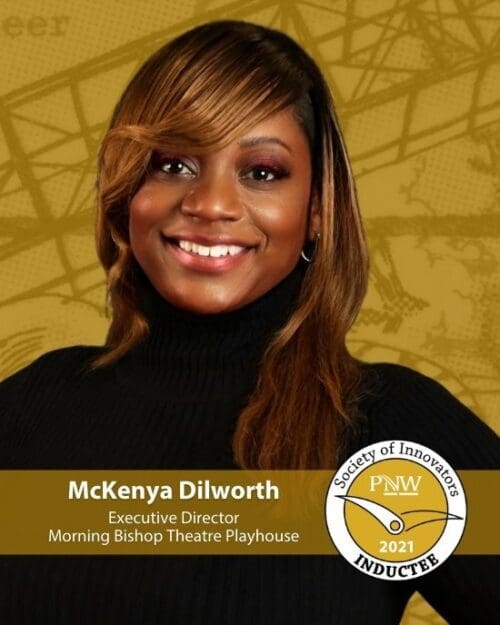 McKenya Dilworth is an innovator, educator, community activist, youth advocate and creative as a playwright, director and filmmaker. Her undergraduate degrees are in Theatre and German (Simpson College, Iowa and University of Salzburg, Austria) Masters in Education and a Ph.D. Candidate for Organizational Management and Leadership, both online at the University of Phoenix.
As eclectic as her educational achievements, her community involvement and achievements are as well. She is an Indiana Arts Commission Fellow, TEACH Plus Indiana Policy Fellow (2021-2022), Innovate WithIN Teacher 2021 Teacher, Green Olive Arts Residency Recipient (Morocco, Africa, Summer 2022), past recipient of the La Mama Playwright Retreat (Spoleto, Italy) and was the 2021 Teacher of the Year for 21st Century Charter School.
Dilworth credits her parents, Morning Bishop-Dilworth and McKinney Dilworth, for her love of learning and community-building. She continues the legacy of her mother's community theatre, The Morning Bishop Theatre Playhouse, Inc. with the annual flagship events and programming such as the Al Boswell PLAYFEST and The MLK Community Summit.
Innovation: BISHOPBOXES
Launched during the COVID-19 pandemic, BISHOPBOXES is a unique arts program individualized for each student that is served. BISHOPBOXES are filled with arts supplies and materials based on the interest of the child/youth, providing arts instruction and self-care enrichment.
How would you define what the BISHOPBOX program is?
BISHOPBOXES is a specialized program developed in in response to the pandemic. The Morning Bishop Theatre Playhouse has been running after school programs for over 30 years. We couldn't do that in person when COVID-19 hit. We immediately pivoted because people of all ages, especially our youth, still need to have that expressive outlet, still need to feel connected, and still engage each other creatively.
The boxes were created as a way to facilitate arts engagement, but it is a very specialized program. Each student completes a questionnaire so that the boxes they receive match their wants and needs. They're based off what you said you wanted to do.
What does it mean to you to have this work recognized?
This is beyond an honor. An innovator is someone who creates a solution, not someone who is sitting back. This award is recognition that we put it together and actually solved an issue. It's more than a pat on the back. It's like a nod in the right direction. Like yeah, you're doing something to impact my fellow man.
I also want to make sure that this is not just me. Even though I'm getting the honor, I have a support system. It really is a we thing. The Gary community has poured so much into me.
What does innovation meant to you?
Innovation to me is about problem-solving. It is making sure that our society doesn't stay stagnant. That we're moving forward to make it better for the next generation or just even for the next person. All you need is some creativity and some muscles and the willingness to be humble. Innovation is looking into the future and saying, you know what? I can contribute. I can do that.
What is next for the BISHOPBOX program?
First, we're keeping them because they're popular. We're also starting to expand. The Legacy Foundation provided funding for BISHOPBOX mentoring. This is a youth entrepreneurship program where we provide everything you need for the development of a business plan. The sky's the limit for BISHOPBOXES!
Why is it important to teach our youth about entrepreneurship and innovation?
It is so important mainly because it's another viable option. If we are truly talking about educating the whole individual, the whole child, you have to give the whole gamut of options to them. Poet Khalil Gibran said, "Your children are not your children." They really aren't your children. They are vessels. They are supposed to rise above whatever you've achieved as you invest in them. We become the facilitators of learning. We become the facilitators of exposure by giving them these options, giving them the option of entrepreneurship.
What do you wish more people knew about Gary, Indiana?
I wish people knew more of the history of Gary. I wish people knew that we had the rarest butterflies in the world in Gary and some of the rarest birds in Gary. I wish people knew that we were the green city before it was invoked to be a green city. That we have 57 parks in a 56 square mile city.
I wish people knew that the heart of the people of Gary is so large and big, that all we want is our businesses to come and take a chance on us. Because if you take a chance on us, I guarantee you will not be disappointed because we're hard workers. When I lived in DC and they found out I was from Gary. Everybody wanted me on their team because we come from humble beginnings and we know how to put the work in. I wish people knew about the work ethic of the people in the city of Gary.
McKenya Dilworth, executive director of the Morning Bishop Theatre Playhouse, was a 2021 individual inductee into the Society of Innovators at Purdue Northwest. A full list of 2021 inductees can be found here.