2021 Society of Innovators Inductee Profile: Roger Winter
December 16, 2021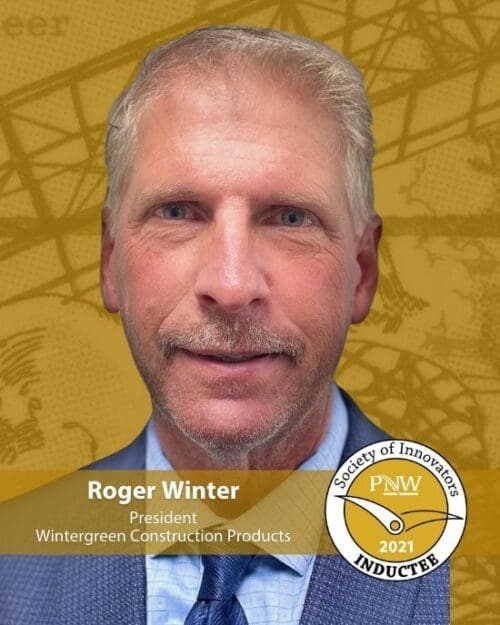 After graduating from Construction Technology in 1984 at Purdue Northwest, Roger Winter worked in the architectural metal and glass industry in Chicago and on Notre Dame's campus. He served as a trustee on many prominent iron-league boards and became owner and president of SG Metal and Glass in 2008.
Winter was also founder and owner of Winter Construction Services, where he designed and built custom homes in the late 1990s. In 2014, Winter invented an extruded aluminum frame system called DexSpan™ to address the issues related to the use of wood and steel on exterior structures. He also started Wintergreen Construction Products to fabricate and distribute the DexSpan™ product line and related products. The DexSpan™ product line is currently marketed and promoted by Timbertech, one of world's largest suppliers of outdoor living products. Winter is a native to Northwest Indiana and a graduate of Purdue Northwest.
Innovation: DexSpan™
The patented DexSpan™ aluminum framing system revolutionizes deck and dock structures, bringing new benefits to design, construction and lifetime cost of ownership. Engineered modularity shortens deck erection from days to hours, while increasing the value of the project.
Can you please tell us more about DexSpan™?
DexSpan™ is a revolutionary framing system that was intentionally designed for residential decks and docks. Since its inception in 2014, it's evolved into a framing system for a variety of products: commercial rooftops, cable suspended balconies, stackable balconies, stairs, steps.
Specifically, DexSpan™ is an extruded aluminum framing system that we use to countermeasure the effects of pressure-treated lumber and seal components in the construction market. Because it is extruded aluminum, we're able to design each shape and piece to not only fit into each other, like using nails and joist hangers and things that would corrode and disintegrate, but kind of fit into each other in a very nonconventional manner.
We've also taken the shapes and engineered them so that they accept all kinds of other associated building products: aluminum handrails, metal rails, composite and PVC deck planks. The overall system battles issues related to corrosion, splitting and cracking of pressured lumber, and the corrosion of steel. Our frame system is a new and very unique solutions that had never been seen before.
How was your innovation developed?
I have worked in the metal, glass, and glazing business around the Chicago area since graduating from Purdue Northwest in 1984. I have been responsible for the design, fabrication, and install of aluminum and steel window wall systems in Chicago and all over Notre Dame University.
During that time, I was also designing and building several homes, and I put up a couple of wood frame decks and within 10 seconds realized how bad pressured lumber is. It's splitting. It's warping. And we're also hearing on the news and watching the catastrophes of decks across the country failing, people being injured, and loss of life. At that point, I decided to make a frame system that anything can fit into and would react to all those issues of pressured lumber.
What is happening with DexSpan™ today?
DexSpan™ today is a product and a frame system that currently has 11 patents in the United States and Canada. We do fabricate DexSpan™ products here in Crown Point, Indiana, but we have a new partnership with TimberTech, one of the world's largest manufacturers of outdoor living products. They are going to take it to a whole other level of both the residential and commetcial markets.
We have several more products coming out soon that we've been working on with the TimberTech team. We are excited about some more new things the market has not yet seen. It's going to be very innovative, very fast paced, and we think it's going to change how outdoor living products are constructed.
What does it mean to you to be recognized by the Society of Innovators?
It's honoring and humbling to be associated with such a prestigious class of people. My innovation is basically using common sense practicality in my experiences in my market. I hope that it encourages other people to be innovators as well.
What's something you wish more people knew about Northwest Indiana?
I'm a native of Northwest Indiana, and besides our lake shore and dunes, what separates Northwest Indiana to me is its people. As I grew up with all my friends, all their parents were long-term, long-lasting, hardworking, dedicated, loyal employees of some of the world's most largest and most productive manufacturers. And, I think those manufacturers and those companies came here, not because of the access to the lake, but they came here for its people, and by all those parents leading by example, I think my generation also has grasped that same type of work ethic and loyalty and commitment to quality. And, I hope we pass it along to our kids.
What advice you would give our younger generation that is still in school?
I want them to know that the field of construction products overall is going to be ever-changing and ever-elevating. Some of the old conventional means and methods of construction are on their way out the door. It's encouraging for us now to find good, young, aggressive talent that can use these new technologies.
What is something you are excited about right now?
I am excited that people are starting to recognize the issues related to certain inferior building products, and I think they're starting to open up their minds about using alternate means and methods of constructing things. Architects, designers, and owners are all interested in value engineering. The idea of using different components to achieve the same goal of building something more long lasting, something that's better investment, more bang for their buck.
What does innovation mean to you?
Innovation to me is just taking or finding a problem, and generating a solution for it. It could be something as simple as helping make a small task easier or faster or cheaper, to creating a new system or technology, to creating some sort of a tool that gives us all access to more information, or it could be something as important as generating a medicine or procedure that saves human lives.
To me, innovation is something you can never stop. I hope everyone in the country grabs onto innovation so that we can continue to be the leader in innovation. Everyone should be able to innovate.
Roger Winter, president of Wintergreen Construction Products, was a 2021 individual inductee into the Society of Innovators at Purdue Northwest. A full list of 2021 inductees can be found here.