LEAP Indiana Book Study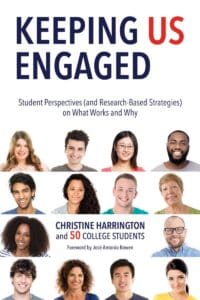 LEAP Indiana is hosting a book study to bring together colleagues from across the state to discuss the following book:
Keeping Us Engaged: Student Perspectives (and Research-Based Strategies) on What Works and Why
written by Christine Harrington and 50 College Students
As a LEAP Indiana member institution, participating PNW faculty and instructors will receive a free copy of the book.
Register to join the Book Study Group
Register by December 1, 2023
Dr. Jenny Cox from Butler University will facilitate the book study. Jenny is in the Mathematics, Statistics, and Actuarial Science Department.  The book study group will meet virtually on the following dates:
Jan. 25th at 1 pm CST: Introduction and Ch. 1
Feb. 28th at 1 pm CST: Chapters 2 and 3
Mar. 28th at 1 pm CST: Chapter 4
Apr. 18th at 1 pm CST: Chapter 5 
To participate in the LEAP Indiana Spring Book Study and receive your complimentary book (for LEAP Indiana member institutions), please register by December 1st, 2023.  All books will be delivered to respective institution's Centers for Teaching and Learning and available for your collection. 
Location
Virtual via Zoom (link will be provided to those who register)
Audience
All Faculty and Instructors
To request a disability-related accommodation, please contact the Office of Institutional Equity at oie@pnw.edu or (219) 989-2163 five days prior to the event.