Chancellor Medallion Recipient Anna Rolewski
December 22, 2021
Graduation was extraordinarily meaningful for chancellor's medallion recipient, Anna Rolewski. Overjoyed at being selected to receive the medallion, she was unsure if her father would be able to attend the ceremony.
Just two weeks prior he has suffered a heart attack during her grandfather's birthday and had to undergo open heart surgery. However, he was able to recover, walk across the stage and present Rolewski with her medallion.
She stated, "By some miracle, his strength and determination, he was able to present me with my medallion."
She went on to say how special the day was for her that her father could be there along with her mom, grandparents and extended family.
In the Classroom
Rolewski, who majored in elementary education really enjoyed working with her third-grade students. This experience led to a full-time position after graduation. While she enjoyed her time in the classroom with the children she also enjoyed her time as a student at PNW.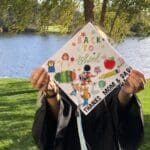 She mentions Diana Underwood, Ph.D. as pivotal to the way she views math instruction in her own classroom. She is also thankful to Kelly Vaughn, Ph.D. for helping her to understand the importance of building and creating a multicultural library in her classroom. Additionally, she names professors David and Debra Pratt as being very supportive during her time at PNW.
"I appreciated always having them there during my time at PNW," she stated.