Chancellor's Cup Donation Drive – GET READY!
January 18, 2023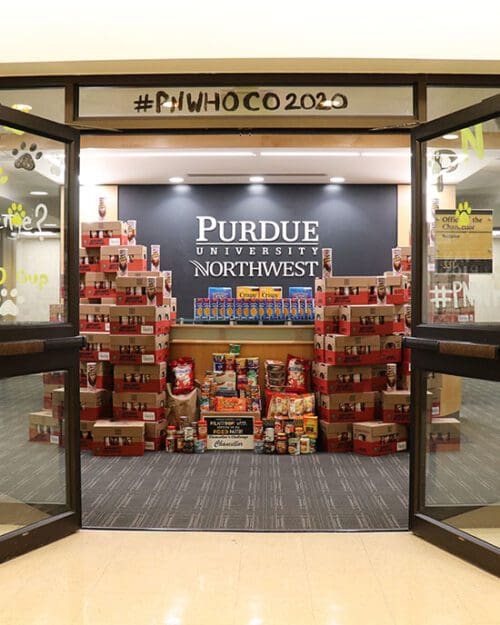 It's time to start planning for the most important event of this school year! A time when the whole university comes together in the spirit of friendly competition to help keep our pantries in Hammond and Westville fully stocked!
That's right…
It's almost time for…
THE CHANCELLOR'S CUP CHALLENGE!
During Homecoming Week (January 30 to February 2), we will be accepting donations in support of the pantry at SULB in Hammond and DSAC in Westville.
Start getting your teams ready! Start strategizing on the best items to buy to get the best value and the most points! Let's see who will get the cup this year!
Check out the rules below and contact Scott Iverson with any questions!
Good luck to all our teams!
---
Items Needed and Point Totals
Every item donated has a point value from 1 to 5 points.  These points will vary from year to year depending on the needs of the food pantry.  This year those assigned point totals are:
Rice – 3 Points
Canned Fruit – 3 Points
Baking/Pancake Mix – 2 Points
Canned Chicken – 2 Points
Peanut Butter – 2 Points
Jelly – 2 Points
Peanut Butter and Jelly Combo – 5 Points*
Box of Cereal – 2 Points
Dry Pasta – 2 Points
Pasta Sauce – 2 Points
Dry Pasta and Pasta Sauce Combo – 5 Points*
Feminine Hygiene Products – 10 Points
Toothbrush (Single packs only) – 2 Points
Floss (not sample size) – 2 Points
All Other Items** – 2 Points
*Participants will be awarded one (1) bonus point for bringing in either Peanut Butter and Jelly or Dry Pasta and Pasta Sauce Together.
**Ramen and other items that come in boxes should not be separated and will count as 1 point per box rather than 1 point per single serving. Loose ramen or other items that would normally be boxed (while appreciated) will be worth 0 points.
Dropping Items Off:
Once you have filled out the above form, please proceed to drop off your items at either Hammond or Westville.
Drop-off times will be from 10 a.m. to 2 p.m., January 30 through February 1 and 10 a.m. to Noon on February 2.
Drop-off locations are the Student Union Library Building (SULB) 305 and the Dworkin Center (DSAC) 1021.
Determining the Winner
The teams are as follows:
Student Organizations/Teams (Each Organization or Athletic Team is its own team)
Honors College
College of Technology
College of Engineering and Sciences
College of Humanities, Education and Social Sciences
College of Business
College of Nursing
Provost/Academic Affairs
Enrollment Management and Student Affairs
Institutional Advancement
Finance and Administration
Information Services
Chancellor's Office/Athletics
The scoring system for the Faculty and Staff portion will take the points accumulated for each team divided by the number of faculty and staff in each area. The student organization portion will be scored solely on the point system of items accumulated.
The winners of the Chancellor's Challenge will be announced at the Homecoming Basketball Games on February 2 followed by a campus email on February 3 for those unable to attend the game.