Creation of the 5-75 Purdue Northwest Anniversary Steering Committee
October 1, 2020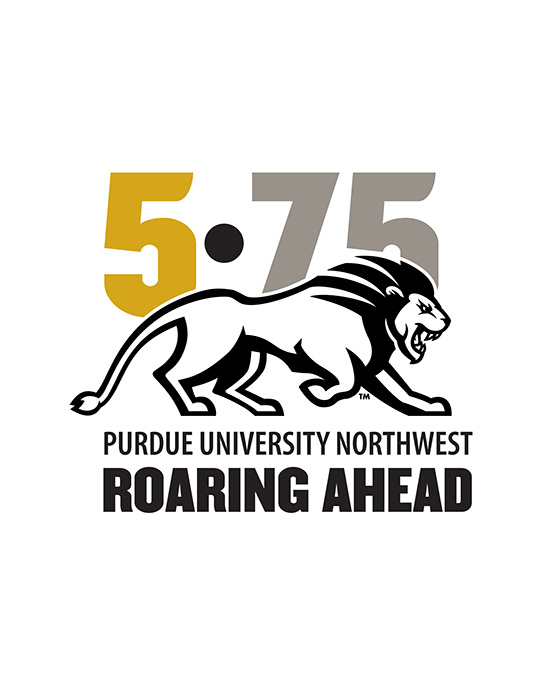 In 2016, PNW became the Pride, and we all know that both campuses have been making the Northwest Indiana Region proud since the 1940s. Now is the time to plan to celebrate our history while enthusiastically looking to our future!
We are pleased to announce the creation of the 5-75 Purdue Northwest Anniversary Steering Committee. We are looking ahead to the year 2021-2022 which marks the 5th anniversary of the establishment of Purdue Northwest and the 75th anniversaries of our legacy institutions, Purdue Calumet and Purdue North Central.
The committee has been charged with facilitating a widespread commemorative year of events that highlight the accomplishments of our students, faculty, staff, and alumni, and our campuses' profound impact on our greater community. The yearlong theme for the celebrations, Roaring Ahead, reflects a focus on activities that demonstrate the many ways Purdue Northwest transforms students' lives as a metropolitan university while pushing the boundaries of innovation and driving engagement.
PNW will plan several university-wide events open to the entire community. More importantly, individual units, departments and colleges are encouraged to plan their own events to look to our future while celebrating our history. We have made funds available to support the Roaring Ahead celebrations, and the committee will oversee the distribution of supplemental or matching funds for these events. A call for applications to make use of these funds will be released in early November 2020 and are due by February 15, 2021.
Apply for 5-75 Anniversary Event Funding
The Roaring Ahead theme and logo should be incorporated into anniversary events that are planned between August 1, 2021, and July 31, 2022. All units are asked to share information about any events planned during this timeframe with the 5-75 Anniversary Committee to allow the committee to facilitate coordination of events across the university.
For information about the 5-75 celebration, visit pnw.edu/Roaring-Ahead.  Questions can be submitted to 575@pnw.edu.
We look forward to all of these events that honor our history and celebrate our bright future.
Thank you to the members for their willingness to serve on this important committee.
5-75 Purdue Northwest Anniversary Steering Committee
Lisa J. Goodnight, Vice Chancellor for Institutional Advancement and Chief of Staff, Co-Chair
Kenneth C. Holford, Provost and Vice Chancellor for Academic Affairs, Co-Chair
Tom Albano, Associate Athletics Director
Kris Falzone, Associate Vice Chancellor, Marketing and Communications
Maria Fuentes, Library Operations Specialist
Ashley Gerodimos, Executive Director, PNW Alumni Community and Strategic Events
Kara Griffin, Executive Assistant to the Vice Chancellor/Project Manager
Ryan Hayes, Head Men's Soccer Coach
Scott Iverson, Executive Director, Housing and Residential Education
Jamie Manahan, Executive Director, Development
Brian Miller, Director of Public Safety and Chief of Police
Cheryl Moredich, Director, Online Programs and Associate Professor, Nursing
Richard Rupp, Interim Chair and Associate Professor, Department Political Science, Economics, and World Languages
Karen Stachyra, Executive Director, Student Success and Retention
Jonathan Swarts, Dean, Honors College
Oriana White, Student Government Association President
Robert Widiger, Maintenance Services Manager
Julie Wiejak, Senior Executive Assistant to the Chancellor for Strategic Initiatives
From,
Thomas L. Keon, Chancellor and the Senior Leadership Team