Leadership Changes in the IS Division
May 15, 2023
It is with pleasure that I announce a change of leadership within the PNW IS division.
First, Richard Gambrell, the current director of Enterprise Applications (EA), will be moving into a senior developer position within the department. We are grateful that we will have his continued influence within IS. Our thanks go out to Richard for his outstanding leadership and many successful accomplishments over the past few years.
Next, I am pleased to announce the promotion of Madhuri Kulkarni to the Director of Enterprise Applications effective June 1, 2023.
Madhuri grew up in India and earned her undergraduate degree in Biomedical Engineering. She continued on at her university as an assistant professor. She moved to the US and completed her Masters in Computer Science and then worked in the field of Database Administration in power generation, insurance, entertainment and Higher Ed organizations in various states. She also lived in London, England for a few years, working and traveling around Europe while she was there.
Across her career, she has worked remotely, including between continents, and in person.  On her return to the US, she worked as an independent consultant for organizations in the UK and Canada before joining PNW in 2017.
Madhuri has been instrumental in creating a robust database and applications systems environment and leading the team in developing and maintaining systems through a standards based approach. She has strengthened ties with our partners in the PNW community and collaborated with teams across the Purdue System to accomplish vital projects for PNW.
Over the past few years, she has taken on increasing responsibilities within the EA division, all contributing to her being the best fit as Director for EA.
Madhuri resides in Porter, Indiana with her husband and two teenage children.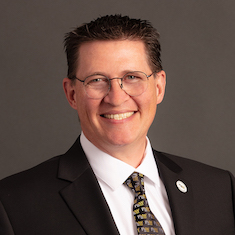 Timothy Winders, Ph.D. | Vice Chancellor Information Services
Purdue University Northwest